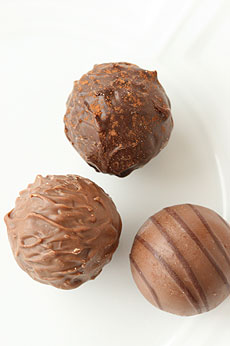 Who doesn't love classic chocolate truffles? These petite-sized ones from Intemperantia Chocolate come packaged in a cheery orange box, perfect for gift-giving! Photo by River Soma | THE NIBBLE.

Gourmet Mother's Day Gifts 2011
Page 1: Cookies, Cake & Candy
Our 2011 selection of specialty food gifts for Mom includes a selection of sweet and savory gifts—something for every taste and diet! This is Page 1 of a two-page Mother's Day gift list. Click on the black links below to view the other page from this year. Also check prior years' Mother's Day recommendations in our Gift Finder and look in any section of our Main Nibbles for Mom's favorite foods.
Prices and product availability are verified at publication but are subject to change. Shipping may be additional. THE NIBBLE does not sell products; these items are offered by a third party with which we have no relationship. They have been recommended because we think they are outstanding products.
Artisan Candies:
Caramel Confections

Artisan Candies makes classic caramel-based confectionery. The Nibble Editors' favorites are the Chocolate Caramel Pretzels and the Pecan Toffee. The sweet, salty and chewy pretzels consist of small pretzel twists dipped in handmade soft caramel, then finished with a covering of dark chocolate. The Toffee features tender, crunchy, buttery toffee pieces drenched in dark chocolate and salted pecans.

Chocolate Caramel Pretzels
$6.00
Pecan Toffee
1/4-Pound
$6.00


Buy online at ArtisanCandies.com

Pecan toffee photo by River Soma | THE NIBBLE.

Crumbzz Cakes:
Gourmet Crumbcake

What could be better than waking up to the cinnamon scent of crumbcake wafting through the house on Mother's Day morning? The cakes from Crumbzz consist of a gentle yellow cake base with thick, heavy, delicious streusel on top. These yummy cakes are all-natural with no artificial ingredients, preservatives or chemical additives. For added excitement, go for one of the fruit flavors instead of the plain cinnamon. Heat it up slightly in the oven or microwave for a warm breakfast or brunch treat.

10-Inch Crumbcake
Cinnamon, Seasonal Fruit,
Chocolate or Persian Pear-Bourbon
$39.95-$44.95


Buy online at Crumbzz.com

A dense crumbcake for brunch or dessert. Photo by River Soma | THE NIBBLE.

Intemperantia Chocolate:

Petite Chocolate Truffles




These mini (about 3/4-inch) chocolate truffles are a fun size that makes indulging without overindulging an easy feat. Made of all-natural ingredients, these truffles are a true classic—the ganache is either simple dark, milk or white chocolate, or is blended with elegant flavors including cappuccino, Grand Marnier and rum; it's then coated in a chocolate shell and dusted with sugar or cocoa powder. They come packaged in a cheery bright orange textured box—no wrapping required!

"Petite" Chocolate Truffles
9 Pieces
$15.28
24 Pieces
$39.32

Buy online at Intemperantia.com


Miniature truffles, for when you want just a bite. Photo by River Soma | THE NIBBLE.


GateauOChocolat:

Flourless Chocolate Cake

You can't go wrong with a classic flourless chocolate cake. Made with Rain Forest Alliance Certified 100% single-origin Ecuadorian chocolate and USDA certified organic sugar, eggs and butter, GateauOChocolat's version is rich, dense and impossibly chocolaty. It's topped with a layer of toasted almonds for an elegant presentation and a pleasing bit of crunch; and like all flourless chocolate cakes, it's gluten- and yeast-free, perfect for moms with wheat or gluten intolerance.

Flourless Chocolate Cake
6-Inch Cake
$32.00
9-Inch Cake
$45.00


Buy online at GateauOChocolat.net

Flourless chocolate cake, topped with almonds. Photo by River Soma | THE NIBBLE.

Patti Paige Baked Ideas:
Gingerbread Yoga Cookies

Gingerbread's not just for Christmastime! Cute cookies make great gifts for any occasion. Made from high-quality, natural ingredients and baked fresh daily, these gingerbread men in yoga poses are a perfect gift for the mom who likes both fitness and good eats. Or, for a personal touch, you can buy the cookie cutters and bake them yourself.

Buy online at BakedIdeas.com


Do yoga poses with these gingerbread cookies. Photo courtesy Patti Paige Baked Ideas.

Woodhouse Chocolate:
Mother's Day Chocolates

Woodhouse Chocolate achieves a remarkable equilibrium: The chocolates are sophisticated enough to please the most demanding connoisseur, but they are not overwhelming to people who prefer tastes that are centered rather than cutting edge. This year, treat Mom with a lovely assortment of Woodhouse Chocolates just for her. Our favorites are the classic Heart Box, full of traditional favorites and eight hearts in limited edition flavors like Mandarin Orange, Coconut Lime, Lemon Lavender and Strawberry Milkshake; and the Mother's Day Box, an assortment that includes a milk chocolate shoe, a white chocolate flower lollipop, a Happy Mother's Day peanut butter cup, a box of chewy salted caramels, an I LOVE MOM box and an Espresso Butterfly Bar.

Heart Box
$46.00
Mother's Day Box
$48.00
Other options available

Buy online at WoodhouseChocolate.com


Sweet sentiment in chocolate. Photos courtesy Woodhouse Chocolate.

Continue To Page 2: Specialty Food Gifts




© Copyright 2005- 2023 Lifestyle Direct, Inc. All rights reserved. Images are the copyright of their respective owners.