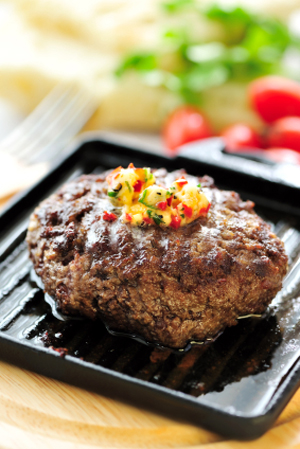 A lowfat bison burger is the way to enjoy luscious beef flavor with a fraction of the fat. Get it now. Photo by Tanya F | IST.
WHAT IT IS: The 5 best savory Top Picks of 2011.
WHY IT'S DIFFERENT: Everything is unique, wonderful and good for you.
WHY WE LOVE IT: These products are so special, they've become part of our daily lives.
WHERE TO BUY IT: See individual listings.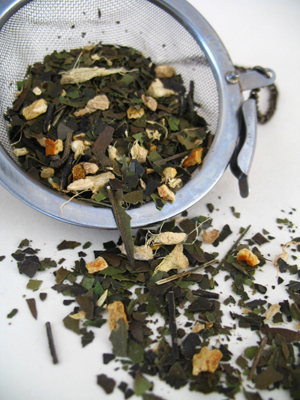 Healthy, delicious and calorie-free, guayusa provides caffeine energy without the jitters. Above, ginger citrus guyausa. Photo by Leah Hansen | THE NIBBLE.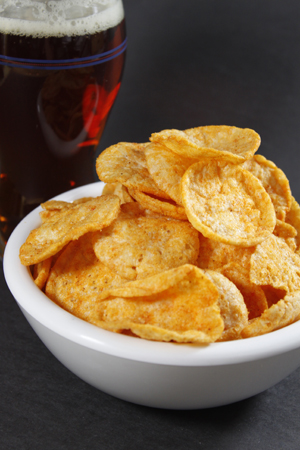 Save calories and fat while enjoying all the flavor and crunch, with Popchips. Above, Barbeque Popchips, one of eight flavors. Photo by Elvira Kalviste | THE NIBBLE.

Best Specialty Foods Of 2011: Part 2
Jump to the article index below
5 Savory Foods You Shouldn't Miss
We taste thousands of foods every year. The best become Top Picks Of The Week.
Last week, we featured five sweet products from the 2011 Top Picks that are "not-to-miss." This week, it's the savory products.
All of them have become part of our permanent shopping list. They've added vibrancy to our cuisine. Try them!

NOTE: You can still use code SANTA for a 10% discount on anything at The Nibble Gourmet Market, through December 31, 2011 at 1 p.m. ET. (The products below are not from The Nibble Gourmet Market.)
1. Bison Burgers

Between the taste and the healthiness factor, bison has been gaining fans at a rapid pace. Just as with beef, don't go for bargain bison: It won't taste as good. You also need to like your burgers on the rare side: Bison is so lean, there's not enough fat to enjoy the flavor at "medium well." By the way, there is no American buffalo. It's bison. Here's the difference. Get it now. Read our review.

2. Guayusa Energy Tea

From the Ecuadorian Amazon, this herbal tea has become a favorite of ours, both cold and iced (we brew a batch every week and refill iced tea bottles). The health benefits are impressive: the antioxidants of tea with a jitter-free caffeine that induces energy and mental focus. Everyone who tries it becomes a fan. Your purchase supports an ancient culture and its traditions, helps small farmers, and helps to maintain the integrity of the Amazon rainforest. In bags, loose tea and delicious flavors: Get it now. Read our review.

3. Popchips

Popchips were the solution to a problem: how chip lovers could eat healthier without sacrificing flavor. There were baked potato chips, but they paled in flavor in comparison to the conventional fried ones. A search for the "next generation" of potato chips—beyond greasy fried and boring baked—resulted in Popchips. The all-natural chips have fewer calories and less fat, with no compromise in flavor. It's love at first bite, in eight popular flavors. Get it now. Read our review.

4. Saba

The ancient Romans used saba to add sweetness to recipes. The prized condiment tastes as good today (and it's now also called vin cotto). It's the father of balsamic vinegar, which is believed to have been created from saba in the 11th century (saba isn't vinegar, which requires fermented grapes). Saba is a real discovery for people who love to cook and try new ingredients. Get it now. Read our review.

5. Yuzu Juice

If you haven't yet discovered the joys of the Asian citrus yuzu (YOO-zoo), pick up a bottle at your earliest convenience. It may well become a favorite: in sauces, beverages, desserts and any place you'd use lemon, lime or grapefruit. For almost no calories, yuzu is a great food enhancer. You can say that about all citrus, but yuzu has extra panache. We love it in vinaigrettes, replacing the vinegar; in cocktails replacing the lemon and lime; and in sauces as a tart counterpoint. Get it now. Read our review.
We promise: You'll love them!
— Karen Hochman