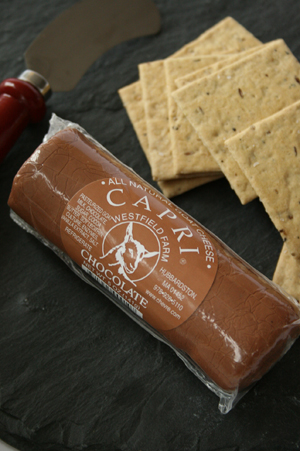 Gotta love it: Chocolate goat cheese tastes like chocolate cheesecake! Serve with graham crackers or just enjoy it by the slice. Get it now. Photo by River Soma | THE NIBBLE.
WHAT IT IS: Our favorite sweet products of the year.
WHY IT'S DIFFERENT: Each is very special and worth adding to your fridge/pantry.
WHY WE LOVE IT: We like it so much, each has a permanent place in our home.
WHERE TO BUY IT: See individual listings.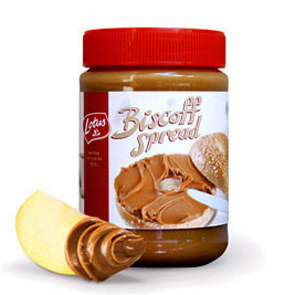 Biscoff Spread is the greatest thing since peanut butter, and it's nut-free! The sweet spread is made from spice cookies. Get it now. Photo courtesy Lotus Bakeries.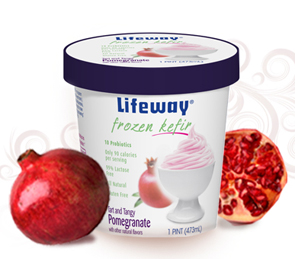 Lactose intolerant, and miss ice cream and frozen yogurt? Lifeway Frozen Kefir has tangy frozen yogurt flavor, and is 99% lactose-free with probiotic cultures. Clemmy's ice cream is lactose-free and sugar-free. Both are gluten-free.

Best Specialty Foods Of 2011: Part 1
Jump to the article index below
5 Sweet Foods You Shouldn't Miss
We taste thousands of foods every year. The best become Top Picks Of The Week.
For the last two weeks of the year, we like to remind you of five sweet and five savory products that are must-trys. They're not necessarily "gourmet," but are specialty foods that stand out as "not-to-miss."
All of this week's sweet product recommendations are better-for-you in one or more ways.

NOTE: You can still use code SANTA for a 10% discount at The Nibble Gourmet Market, through December 31, 2011 before 1 pm E.T. The products below are not from The Nibble Gourmet Market.
1. Agave Nectar

One of the greatest "undiscovered" foods, agave nectar is a natural sweetener that has half the glycemic index of sugar, honey and maple syrup. It tastes great—like a very light honey. It's a delight for carb- and calorie-counters, dieters and diabetics—and just about everyone, because all the refined sugar Americans eat is not good for us. Get it now. Read our review.

2. Biscoff Spread

Also called speculoos spread, Biscoff is a scrumptious bread spread, smooth like peanut butter but totally nut-free: It's made from ground spice cookies! An award-winning casual food masterpiece, it can be used in recipes from desserts and milkshakes to ants-on-a-log. Get it now. Read our review.

3. Clemmy's Ice Cream

Clemmy's is the "universal ice cream": sugar-free, lactose-free and gluten-free. And it still tastes delicious, a boon to those who have a food restriction and miss the pleasures of ice cream. Readers: Ask your retailer to bring in the line. Retailers: Just do it! It's also available online. Get it now. Read our review.

4. Capri Chocolate Goat Cheese

This goat cheese log is a healthier alternative to chocolate cheesecake. There's a big cholesterol savings due to the absence of eggs; and fresh goat cheese is also lower in fat and calories: 60 calories per ounce, compared with 100 for cream cheese. Goat cheese can also be tolerated by many people with lactose intolerance. Warning: It's so good, you may be enjoying "chocolate cheesecake" more often. (See photo at top of page.) Get it now. Read our review.

5. Lifeway Frozen Kefir

What frozen dessert is 99% lactose-free, gluten-free and only 90 calories per serving? Some sorbets fall into the category; but those who want something creamier should check out Lifeway Frozen Kefir (pronounced kuh-FEAR— kefir is similar to yogurt, but a different recipe). The nutritious and delicious tangy dessert packs 10 live and active probiotic cultures. Get it now: at Central Market, Food Emporium, Gristedes, Natural Grocers, Sunflower, Wegmans, Whole Foods Markets and other fine retailers. Read our review.
Enjoy the discovery of these terrific products.
— Karen Hochman