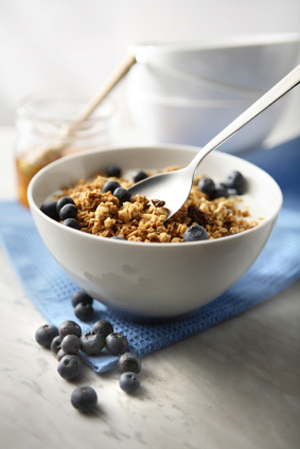 Granola with fresh blueberries: a great way to start the day for many people. Photo by Floortje | IST.
WHAT IT IS: Reviews of the best granolas.
WHY IT'S DIFFERENT: We tasted 140 different products to recommend the best (plus 20 mueslis).
WHY WE LOVE IT: Great granola is crunchy and sweet, with layers of flavor from fruits, nuts and seeds, granola is a breakfast food, a snack food and a garnish (granola-ice cream parfaits, anyone?).
WHERE TO BUY IT: See individual listings.

Gourmet Granola:
The Very Best Granola Cereal We Tried
Jump to the article index below
Introduction: Going With The Grain
It's the year of The Great Granola and Muesli Taste-Test: almost 50 brands of granola and 20 brands of muesli, comprising more than 100 individual varieties.
What was I thinking?
My search to find the very best granola cereal and muesli led me to supermarket shelves... farmer's markets...bakeries...specialty food stores...e-stores...and eating lots and lots of cereal.
Granola has been around since 1863, invented by a doctor as healthier breakfast fare for his patients (details). But it seems to be almost inescapable these days. Everybody and his personal trainer is making and selling granola. (Muesli, so popular in other parts of the world, is decidedly a second-class citizen in the U.S.).
Is either cereal truly healthy for you? Are there any worth going out of your way for? And what's the difference between granola and muesli, anyway?
If you're a lover of granola or muesli—or simply want to know more—pick up your virtual spoon and dig in to this article. You'll discover:
The differences between granola and
muesli
How each came to be
The issues surrounding "healthy"
All the brands we tried
The granola and muesli that deserve the designation of Top Pick Of The Week
Start with the article index, below.
— Stephanie Zonis