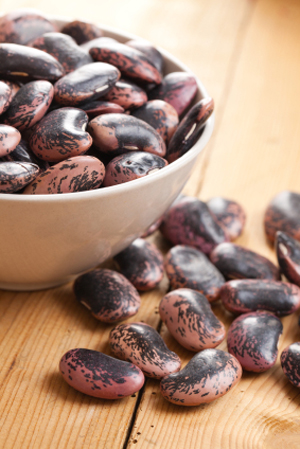 Scarlet Runner beans are just one of many bean beauties available from Idaho's Zürsun beans. An American heirloom bean cultivated in the 1750s, Scarlet Runner is named after the plant's glowing red flowers. Photo by J. Irkaejc | IST.
WHAT IT IS: Heirloom beans: Dried beans far superior in flavor and taste, and far more beautiful to look at, than dried supermarket beans (and don't even mention canned beans).
WHY IT'S DIFFERENT: Great texture and superior flavor. Many varieties are beautiful in their markings.
WHY WE LOVE IT: They're delicious and healthy, packed with fiber, vitamins and minerals, and a change of pace from rice, quinoa and other grains.
WHERE TO BUY IT: At specialty food stores nationwide, and online at ZursunBeans.com.

Heirloom Beans From A To Zürsun
CAPSULE REPORT: Beans are so delicious and so good for you. They're such an inexpensive form of protein, and they're fat free. So why don't we eat more of them? They are so versatile that you can add your favorite ingredients to create a delightful dish.
Some home cooks shy away from beans because once dried, they need to be soaked for several hours or overnight to restore the moisture. (The easy way: 15 minutes in a pressure cooker—no soaking required). See cooking dried beans.
Bean salads are also wonderful warm-weather foods. And unlike mayonnaise-based salads, they can be taken on a picnic without fear of spoilage. The bean cookbooks below will show you what you've been missing, from dips to soups and stews.
Why Heirloom Beans?
Heirloom dried beans are things of beauty. Although many lose their extraordinary markings when cooked, it's a joy to work with such beautiful ingredients.
Zürsun Idaho Heirloom Beans was the first U.S. company to offer heirloom beans and unusual legumes (see the difference between beans, legumes and pulses). The beans are grown on some 300 small family farms in the Snake River Canyon region of south central Idaho.
When you think about food from Idaho, potatoes, trout, elk, deer, Snake River Farms' Wagyu beef and Kurobuta pork, and even huckleberries may come to mind. But Snake River Canyon boasts ideal environmental conditions for bean growing. Just taste the pure, distinctly flavorful beans. They're truly "gourmet" compared to common grocery store beans.
These fine beans need no gilding, but names like Appaloosa, Calypso, Christmas Lima, Jackson Wonder, Snowcap and Tongues Of Fire promise even more excitement.
Zürsun's more familiar beans—black eye peas, limas, black turtle beans, cannellini, fava beans, garbanzos, great northerns, kidney beans and navy beans, for example, and pulses such as lentils and channa dal—are superior to mass-produced store varieties. They are also worth your attention.
The company, run by Jim Soran, a second-generation "bean guy," is committed to providing you with the best bean-eating experience of your life.
What About Canned Beans?
You've most likely used canned beans in your recipes. We promise that the texture and flavor of heirloom dried beans are so far superior that, going forward, you'll reach for the colander instead of the can opener.
(Another reason to avoid canned beans: They're high in sodium.)
There's a lot more to discover about heirloom beans. Head to the next page or start with the article index below.