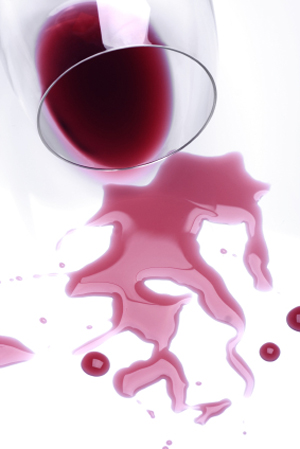 What to do about an unfortunate red wine stain or coffee stain? Grab the spray bottle of WineOFF or CoffeeOFF for easy stain removal. Photo by Igor Dutina | IST.
WHAT IT IS: A spray of enzymes and friendly bacteria.
WHY IT'S DIFFERENT: The product actually "eats" the stain!
WHY WE LOVE IT: We're not the neatest people in the world. The sprays are the solution to klutziness and accidents with wine and coffee. They also work on other foods.
WHERE TO BUY IT: Urineoff.com. Please note that the manufacturer's best-seller is a stain remover for pet and child "accidents," and look for the CoffeeOFF/ WineOFF button at top right of the home page).
ARTICLE #2: English muffin history. Hint: They're American, not English.
RECIPES: Mushroom recipes for National Mushroom Month.

The Solution To Red Wine & Coffee Stain Removal
CAPSULE REPORT: This week's top pick isn't a food, but a way to remove food stains—more specifically, wine and coffee stains.
There are a number of specialty stain removal products on the market. (For instance, the new Jo Dee Messina site showcases her using a suite of stain removal products.) We haven't tried them all, but some have worked for us and some haven't.
Flooding the stain with club soda and blotting it can work if you do it quickly, while the stain is still wet. If you wait until the morning after the dinner—or months after—don't count on it.
When we first received samples of WineOFF and CoffeeOFF, we were a bit skeptical until we put them through their paces. It amazed us that, two weeks after heavily staining pure white linen napkins and leaving them in the sun, CoffeeOFF and WineOFF did their jobs.
The "secret" is a combination of enzymes along with friendly bacteria that actually eat the staining foods. While a Tide pen is more convenient to stick in your pocket when dining out, we're keeping these spray bottles at home to finish the job.
With an ample four-ounce bottle of each for just $9.90, no household should be without them.
These helpful sprays are:
Great gifts for party hosts
Welcome stocking stuffers for friends and family who are known for their high dry cleaning bills.
Unlike with our other Top Picks, there's no "rest of the review" because we've said it all.