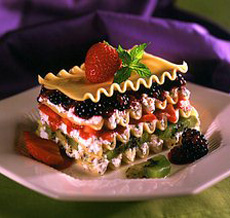 March 2005
Updated February 2009

Dessert Pasta
Page 3: Dessert Lasagna & Songbirds' Nests
This is Page 3 of a 9-part article. Click the black links below to view the other pages.
On The Menu
Impressive Presentations

Dessert Spaghetti

Filled Pastas

Back To Grandma
Dessert Lasagna
This fruit lasagna recipe won third prize in a contest held by the National Pasta Association (www.ilovepasta.org) and the Culinary Institute of America.
After you master this recipe, you may develop your own ideas for variations on the theme of dessert lasagna. Some suggestions: make it with summer berries, as shown here; with chocolate shavings and alternating layers of vanilla and chocolate ricotta; with chocolate and butterscotch chips and a side of light brandied caramel sauce; with fall fruits (cooked apples, cherries, pears); or a fusion version of Grandma's kugel—lasagna noodles with ricotta, dried cherries and blueberries (and toss in some almond slivers).
Ingredients
12 pieces lasagna
4 cups ricotta cheese
1 cup sugar, divided
8 kiwis, peeled
4 cups strawberries, washed and trimmed, with 8 berries reserved for garnishing
4 cups blackberries, washed
1/2 cup toasted, sliced almonds
Mint sprigs to garnish
Preparation
Cook the pasta according to package directions. Rinse, drain and set aside.
In a medium bowl, stir together the ricotta cheese and ½ cup sugar. Set aside.
In a food processor, purée 4 kiwis with 2 tablespoons sugar. Transfer the purée to a bowl and set it aside. Rinse the processor bowl.
In the processor, purée half the strawberries with 2 tablespoons sugar. Strain the purée into a bowl and set it aside. Rinse the processor bowl.
In the processor, purée half the blackberries with 2 tablespoons sugar. Strain the purée and set it aside.
Slice the kiwis into ¼-inch thick rounds. Slice the strawberries into 1/8-inch thick pieces. Slice the blackberries in half.
Reserve 1/4 cup of each of the purée to use as a garnish when serving.
To assemble the lasagna, first cover the bottom of a 9-inch-by-13-inch glass baking pan with 3 pieces of pasta. Spoon 1/3 of the ricotta on top and spread it evenly. Pour the kiwi purée over the cheese and arrange the kiwi slices on the purée. Lay on 3 more pieces of pasta and cover with 1/2 the remaining cheese. Pour the strawberry purée over the cheese and sprinkle with sliced strawberries. Lay on 3 more pieces of pasta and cover with the remaining cheese. Pour the blackberry purée over the cheese and sprinkle with blackberries. Top with a final layer of pasta. Cover tightly with plastic and refrigerate overnight.
Just before serving, sprinkle the lasagne with the remaining 2 tablespoons sugar and the toasted almonds. Cut into 8 rectangles and use a spatula to set the pieces on dessert plates. Decorate the plates with dots of reserved purées. Garnish each piece of lasagna with a strawberry and a sprig of mint.
Songbirds' Nests
This is a simple recipe for which you can mix and match many flavors of pasta and fillings.
Ingredients
Three flavors of ice cream (your choice)
Fettuccine (plain, or your choice of flavor)
Preparation
In advance, select three different colored ice creams for "eggs."
Use an ice cream scoop to spoon out a large ball of ice cream.
Hand-mold the scoop into an oval egg shape and put back into the freezer on a tray (wearing clear plastic disposable gloves or putting your hands in baggies from the produce section can make this easier).
Repeat steps 2 and 3 for each ice cream flavor.
Cook fettuccine. Coil cooked fettuccine into small nest shapes. Let cool.
At dessert time, assemble the "bird eggs" in the "nests," and serve.
Continue To Page 4: Chocolate Spaghetti
© Copyright 2005- 2015 Lifestyle Direct, Inc. All rights reserved. Images are the copyright of their respective owners.