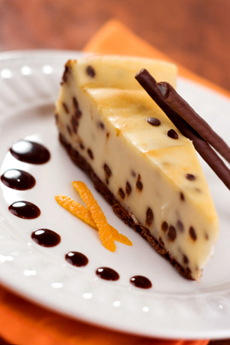 Who doesn't love cheesecake? Whether New York- or Philadelphia-style, flavored or traditional, this is one dessert that takes the cake! Photo of cheesecake by Kelly Cline | IST.


Cheesecake Trivia Quiz
Answer A Few Food Trivia & Learn Fun Facts About Cheesecake
NOTE: You must have cookies or JavaScript enabled in your browser in order for the survey software to function.

The first recorded mention of cheesecake has it being served to athletes during the first Olympic Games, held in 776 B.C.E. The recipe consisted of "crushed cheese, wheat flour and one egg." Recipes have evolved since then, but American cheesecake is different from Greek cheesecake, Italian cheesecake, German cheesecake, French cheesecake, etc. Different cultures use their own favorite fresh cheeses and flavorings, which have a very different impact on the personality of the cheesecake. And speaking of personality, cheesecake has become a work of art as well. Take a look at the cheesecakes from Elegant Cheesecakes, which don't look at all like cakes (they're a NIBBLE Top Pick of the Week). Take this quiz to learn some fun facts about this most delectable of desserts.
TAKE THE QUIZ




Related Food Videos:



For more food videos, check out The Nibble's Food Video Collection.


© Copyright 2005-2015 Lifestyle Direct, Inc. All rights reserved. Images are the copyright of their respective owners.