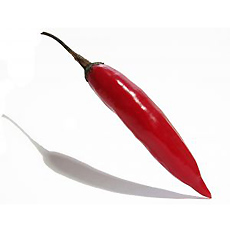 The serrano chile isn't the hottest, but it can easily be mistaken for some that are. Photo courtesy of Stock Exchange.


Chile Pepper Trivia Quiz
Answer A Few Food Trivia Questions & Learn Fun Facts About Chile Peppers
NOTE: You must have cookies or JavaScript enabled in your browser in order for the survey software to function.
We developed this quiz in honor of Cinco de Mayo, but chile enthusiasts will enjoy a heated celebration any day of the year. Chilli is the Aztec word for these fruits, which are indigenous to Central America. When Christopher Columbus discovered them in the Caribbean, he erroneously thought they were related to the black peppercorn (Piper nigrum), and called them chilli peppers. Nost hot chiles belong to the genus Capsicum frutescens L. The single word "chilli" (also spelled chili and chile) is is more correct, but "chile pepper" has remained in the vernacular and is used by more people in the U.S.
TAKE THE QUIZ


By submitting this survey you agree to the Gourmet Giveaway Rules & Regulations.


Related Food Videos:



For more food videos, check out The Nibble's Food Video Collection.


© Copyright 2005-2015 Lifestyle Direct, Inc. All rights reserved. Images are the copyright of their respective owners.