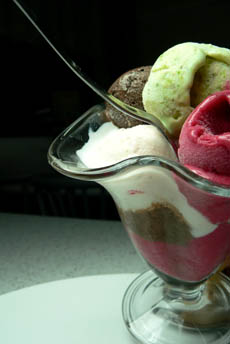 Is it gelato or ice cream, and what's the difference, anyway? Read about the difference between ice cream and gelato. Photo by Teoman Yuksel | Dreamstime.


Ice Cream Trivia Quiz
Answer A Few Food Trivia Questions & Learn Fun Facts About Ice Cream
NOTE: You must have cookies or JavaScript enabled in your browser in order for the survey software to function.
Freezing technology is relatively recent, but mankind has been enjoying frozen desserts for thousands of years. Up to 4,000 years ago, the Chinese elite enjoyed a frozen dessert made from syrup and snow. Another variation, made with milk, overcooked rice and spices, was packed in snow to harden. Fruit ices were also developed, prepared with fruit juices, honey and aromatic spices. Through trade routes, frozen desserts were introduced to the Persians about 2,500 years ago. The Persians drank syrups cooled with snow called sharbat ("fruit ice" in Arabic), the base of the Western words sherbet, sorbet and sorbetto. You can read more in our History Of Ice Cream, but start by taking this quick trivia quiz.
Answer four trivia questions and learn more about ice cream.
TAKE THE QUIZ




Related Food Videos:



For more food videos, check out The Nibble's Food Video Collection.


© Copyright 2005-2015 Lifestyle Direct, Inc. All rights reserved. Images are the copyright of their respective owners.