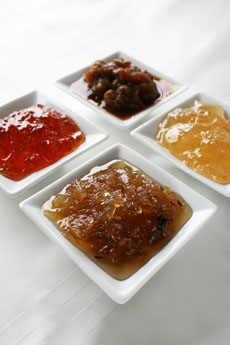 Incredible Onion Conserve, Gracious Garlic Gelée and Tomato Chutney from Paumanok Preserves, plus preserves like Pomegranate, will tickle Dad's palate. Photo by Hannah Kaminsky | THE NIBBLE.

Best Father's Day Gifts 2009
Gourmet Food Gifts For Dads
There's a recession, but that doesn't mean we can't eat well. This year, we're looking for gifts that are perhaps less splashy, but just as delicious. This is Page 2 of a three-page article. Click on the black links below to visit other pages.
Also see our Father's Day 2008, Father's Day 2007 and Father's Day 2006 gift recommendations—all still smashing gift ideas.
Prices and product availability are verified at publication but are subject to change.
Sweet Gourmet Gifts

Bentley's Popcorn:
Butter Pecan, Cinnamon Almond
& Toffee Caramel

This excellent toffee-covered popcorn makes any day a holiday, and is a most wonderful gift for anyone. Packaged in individual 1.5-ounce bags for crispness, the serving also helps with portion control—although after that first bite of seductive goodness, one portion may seem like three bags (which is how many we ate). The bags are sent in reusable gold tins. The toffee coating has such finesse and is so satisfying, even to adults, that it can double as dessert—especially on top of ice cream. Toffee Caramel is the Butter Pecan without the nuts.

Gift Tins
12 To 66 Bags
$29.95 To $99.95


Photo by Corey Lugg | THE NIBBLE.



Chocolate Inspirations:
Cinnamon Toast Toffee


This Chicago chocolatier makes Cinnamon Toast Toffee by infusing their regular toffee with cinnamon, coating it with milk chocolate and adding sparkly cinnamon sugar to the top. A visual treat as well as a treat for the palate. The milk chocolate is from Felchlin of Switzerland, one of the finest chocolates in the world.

Gift Boxed Toffee
1/2 Pound To 2 Pounds
$15.50 To $42.50


Photo by Hannah Kaminsky | THE NIBBLE.


Gilda's Biscotti:
Biscotti In Seven Flavors


Biscotti are popular as a dipper with coffee, as a cruncher along with a soft spoon of ice cream and as an anytime snack. Gilda's Biscotti makes a harder, traditional style of biscotti, using only wholesome ingredients, hand cutting each one and baking it in small batches. The flavor combinations are classic too—Chocolate Espresso, Cherry Pistachio, Candied Orange and Almond, Chocolate Hazelnut, Almond Anise, Vanilla Bean and Lemon Fig. There's even a special Dad's Midnight Stash, an assortment of everything, preferred by Gilda's dad. Give yours this history of biscotti along with a few bags.

Dad's Midnight Stash, an assortment of snack-sized flavored biscotti, makes a tasty gift for Father's Day. Photo by Corey Lugg| THE NIBBLE.


Paumanok Preserves:
Onion Conserve & More

On the North Shore of Long Island, down the road apiece from the tony Hamptons crowd, Paumanok Preserves makes small-batch jams, jellies and relishes from seasonal fruits and vegetables in a certified farm kitchen. The offering is so large and tempting, you may not know where to begin. Here's a suggestion: Get the Incredible Onion Conserve, caramelized sweet onions with caraway seeds, along with the Gracious Garlic Gelée. Dad will flip over them, and you'll know exactly what he wants for birthdays and other holidays. What to do with them? Biscuits, meat, fish and cheese condiment and oh yes—spoon it from the jar because they are both incredible. The Farmhouse Salsa is also a must-try: yellow tomatoes and fresh garlic that bypass the chip and go straight to chicken and fish. Superb!

12-Ounce Jar
$8.50
Case Of 12 Jars
$96.00

Photo by Hannah Kaminsky | THE NIBBLE.

Sweet Assets:
Financial Crunch Chocolate
Stimulus Package


Here's a product for the times: sweet relief from the current financial crunch. First, a "Bankers Dozen" of 11 pieces of milk chocolate crunch coins, each subjected to a "Tax Bite," in the keepsake metal tin shown at right. The 11 coins are available in dark packaged inside a milk chocolate "Nest Egg," or in a small gold "Short Change" box. Those hoping for a return on their investments can savor a dark chocolate "Credit Sweet" bullion bar.

Green Tin or Nest Egg
$20.00

Short Change Or Credit Sweet
$7.00

Stimulus Package
Everything, Gift-Boxed
$75.00


Photo by Corey Lugg | THE NIBBLE.


© Copyright 2005- 2018 Lifestyle Direct, Inc. All rights reserved. Images are the copyright of their individual owners.