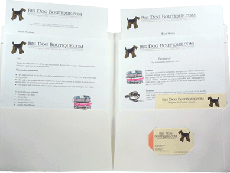 A basic media kit. Photo courtesy of BigDogBoutique.com.
THE AUTHOR
KAREN HOCHMAN, Editorial Director of THE NIBBLE, sees more than 1,000 media kits a year. She wishes she could share a copy of these best practices to some of their creators.
June 2005
Updated February 2009

Media Kit Components
Page 3: Online Media Kits
This is Page 3 of a five-page article. Click on the black links below to visit other pages.
Online Media Kits
After you've finalized your kit components, turn each one into a downloadable PDF in the Media Center or Press link on your website. This section should have a user-friendly index page listing all of the contents (you can simply adapt the bulleted list and descriptors above), plus an Image Gallery—jpgs of your products. Be sure to name your jpgs by the product name, e.g., Blue Glass Platter, and not just V1046-28 (i.e. the item number, which is meaningless to the press).

Images
The more product images you can supply, the better.
One of the most important things you can do is hire a gifted product photographer. Not only is good photography important for your brand overall, having magazine-quality photos can make the difference in getting covered by small and mid-size media that don't have the time and resources to take original photography. Some image tips:
Don't scrimp on photography. The picture is what sells your product when the live product isn't in front of the buyer or journalist. Find a photographer who can make your product shots look worthy of Gourmet and House and Garden. He/she doesn't have to be famous or old, just good. Not only are you more likely to get picked up by the press—you'll sell more to retailers, too. We see too many beautiful lines whose line sheet photos are so dull and uninteresting that the products seem to be from another company. Trade shows are hectic—buyers may just grab a line sheet as they're racing somewhere. We would never know, pulling some sheets from our stacks of show materials, that these were the gorgeous cookies, plates or whatever that we wanted to follow up on.
Provide romance shots. In addition to package shots and plain product shots, you need several romance shots—your product propped in an appealing consumer setting (e.g., cookies on a plate with a cup of coffee). These, rather than package shots, are very important for consumer press coverage.
Unlock your images. If you are going to distribute a CD-ROM of images, make them downloadable. While we are sensitive to copyright, appreciate that some manufacturers want to know to whom they are releasing their images, and acknowledge that the images may be locked on your website. If we are going to take the time to load and open images on a CD you gave us, we expect to be able to use them. Given the easily available software that grabs even locked images from websites, you are not protecting your images from violators; only making things more difficult for time-strapped editors. Otherwise, save us the time of opening your CDs and just give us a hard copy sheet of images with instructions to call you; or tell us to look at the images on your website.




Related Food Videos:



For more food videos, check out The Nibble's Food Video Collection.


© Copyright 2005-2015 Lifestyle Direct, Inc. All rights reserved. Images are the copyright of their respective owners.