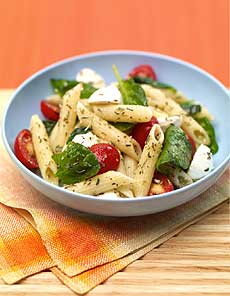 This pasta salad is delicious served hot or cold.


Recipes: End-Of-Summer Dinner
Page 2: Penne Pasta Salad Recipe With Spinach & Tomatoes
This is Page 2 of an eight-part article. Use the index below to navigate through all the recipes.
Penne Pasta Salad Recipe With Spinach & Tomatoes
With a triple hit of antioxidants from the rosemary, thyme and oregano, this pasta salad is sure to stand out at a summer potluck. With the availability of fresh basil and cherry tomatoes year-round, you can enjoy it on the Christmas buffet as well.
Serves 8.
Ingredients
8 ounces penne pasta
3 tablespoons olive oil
3 tablespoons white wine vinegar
1 teaspoon rosemary leaves, finely
crushed
1 teaspoon thyme leaves
1/2 teaspoon garlic powder
1/2 teaspoon oregano leaves
1/2 teaspoon ground sea salt
1 package (6 ounces) baby spinach
leaves
1 pint grape cherry tomatoes, halved
1 cup bite-size mozzarella cheese
balls, halved


Balls of mozzarella from Mozzarella Fresca,
a NIBBLE Top Pick Of The Week.
Preparation
Cook pasta as directed on package. Drain well.
Meanwhile, mix oil, vinegar, rosemary, thyme, garlic powder, oregano and sea salt in small bowl with wire whisk, until well blended.
Mix pasta and spinach in large bowl. Add dressing; toss to coat well. Add tomatoes and cheeses; toss to mix well. Serve warm or at room temperature.
Go To Page 3: Summer Squash Sauté
Go To The Index At The Top Of The Page
Recipe courtesy of McCormick. Other material © Copyright 2005- 2015 Lifestyle Direct, Inc. All rights reserved. Images are the copyright of their individual owners.