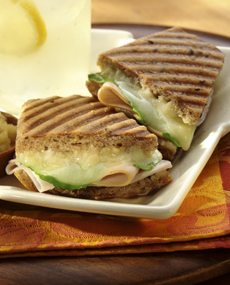 With sharp provolone, pesto and arugula, this panini is not your everyday turkey sandwich.

Panini Pizzazz
Page 8: Smoked Turkey, Pine Nut Pesto & Sharp Provolone Panini


This is Page 8 of an 8-page article. Click the black links below to visit other pages. See Page 1 for information about a panini press/panini pan.
On The Menu:

Smoked Turkey, Pine Nut Pesto & Sharp Provolone Panini
Pesto means paste in Italian. Unlike a classic basil pesto sauce (or the many variations that include the nuts, olive oil and cheese but substitute an herb or vegetable other than basil), here the pesto omits the herbs and is essentially a nut spread.

Ingredients For 2 Panini
2 tablespoons pine nuts
3 tablespoons extra virgin olive oil
7 slices provolone cheese, divided
Salt and pepper
4-6 thin turkey slices
4 slices ciabatta bread
1 bunch of baby arugula
Preparation
Pulse pine nuts in blender to chop. Add oil, 3 slices cheese torn in small pieces and salt and pepper. Blend to form pesto.
Place one slice cheese and turkey on each of two slices bread.
Add 7-8 pieces arugula and another slice of cheese on each.
Spread 3 tablespoons pesto on top of each. Close sandwiches and grill for 3-5 minutes or until golden brown.
Recipe courtesy of Sargento. Other material © Copyright 2005- 2015 Lifestyle Direct, Inc. All rights reserved. Images are copyright of their respective owners.