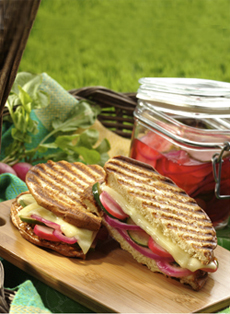 Homemade pickled cucumbers, onions and radishes bring so much more to this sandwich than a generic pickle from a jar.

Panini Pizzazz
Page 6: Panini With Vermont Sharp White Cheddar & Homemade Pickled Vegetables


This is Page 6 of an 8-page article. Click the black links below to visit other pages. See Page 1 for information about a panini pan/panini press.
On The Menu:

Panini With Vermont Sharp White Cheddar & Homemade Pickled
Vegetables
The pickled vegetables need to be made a day in advance, but otherwise, this recipe is simple—and you can use the extra pickled vegetables throughout the week.

Ingredients For 2 Panini
1/2 cup sliced cucumbers
1/2 cup sliced red onions
1/2 cup sliced radishes
1 cup water
1 cup red wine vinegar
4 slices ciabatta bread or substitute 8 large slices rustic Italian bread
Salt and pepper
6 slices sharp Cheddar cheese, preferably Vermont sharp white Cheddar
Preparation
Place cucumbers, red onions and radishes in a jar with water and red wine vinegar to completely cover the vegetables. Put in refrigerator with lid on and let sit for 24 hours. Prepare one day in advance.*
Take pickled vegetables out after 24 hours and drain. Place spoonful of veggies on bread and add salt and pepper.
Cover generously with 2 or 3 slices of cheese. Grill 3-5 minutes until golden brown and cheese is melted.
*TIP: You can pickle a lot of vegetables at once and use them throughout the week, with sandwiches or omelets, as garnishes with meats and seafood and as healthy snacks. So, feel free to multiply this recipe and pickle lots of veggies.
Continue to Page 7: Provolone Panini With Prosciutto & Rosemary Roasted Peppers
Recipe courtesy of Sargento. Other material © Copyright 2005- 2015 Lifestyle Direct, Inc. All rights reserved. Images are copyright of their respective owners.