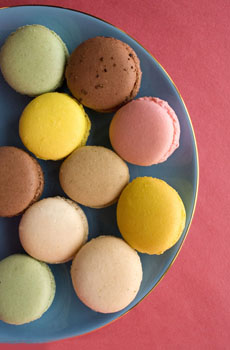 French-style macaroons from
Mad Mac
, a NIBBLE Top Pick Of The Week. Photo by Claire Freierman | THE NIBBLE.
December 2006
Last updated April 2010

The History Of Macaroons
Page 2: The French Macaroon
This is Page 2 of a two-page article. Click on the black link below to visit Page 1.
Amaretti
Amaretti, a variant of macaroon, were invented by Francesco Moriondo, pastry chef of the Court of Savoy, in the mid-17th century. They are flavored with chopped bitter almonds or amaretto, bitter almond liqueur. The Italian word amaro means "bitter," and the literal translation of amaretti is "the little bitter ones."

In Italy, crushed macaroons are used in frangipani, a cream filling made by flavoring butter with lemon extract, rum, sherry or brandy. Macaroon crumbs are often added to ice cream (they are a part of the popular frozen tortoni, named after a 19th century cafe owner), pie fillings and puddings.

Above: amaretti-style cookies from artisan baker Pistachia Vera in Columbus, Ohio.
French-Style Macaroons
French macarons can be spectacularly colored and flavored meringue "sandwiches."
The concept was invented by Pierre Desfontaines Ladurée, who, at the beginning of the 20th century, had the idea to join two meringues and fill them with ganache. The "originals" combined two plain almond meringues with a filling of [chocolate] ganache; but today, ganache, buttercream or jam is sandwiched between meringues of seemingly limitless colors and flavors.

The Parisian bakery Ladurée is now known for its dozens of exciting flavors. Some include Blackcurrant Violet and Salted Butter Caramel, and of course, the basics—Chocolate, Vanilla, Raspberry and Pistachio—plus special seasonal flavors like Anise (shown at right), Chestnut, Basil Lime, Orange Blossom, Rose and White Chocolate. Every trip to Paris must include a visit!

Macaroons from Ladurée.
Try this recipe for Ladurée French Macaroons.
The Macaroon Museum
Macaroons have made their way north to Scandinavia and across the pond. But if you find yourself in France near Poitiers or Limoges, head for the nearby town of Montmorillon and check out the Almond and Macaroon Museum (and let us know all about it).

Macaroons can be frozen and defrosted 90 minutes before serving.

Reviews

Take a look at our favorite macaroons, all Top Picks Of The Week:

Chocolate macaroon from Pralus.
© Copyright 2005- 2015 Lifestyle Direct, Inc. All rights reserved. Images are copyright of their respective owners.