What does this classic Italian pasta dish with asparagus and Parma ham have to do with the Japanese concept of umami? Read all about it in this article, and enjoy the delicious umami recipe above for pasta with asparagus and Parma ham, recipe courtesy of the Umami Information Center.
KAREN HOCHMAN is Editorial Director of THE NIBBLE.
September 2006
Updated April 2009

Sweet, Sour, Salty, Bitter And... Umami?
Page 5: Scallop & Bacon Salad Recipe
This is Page 5 of a six-page article. Click on the black links below to visit other pages.
Scallop & Bacon Salad Recipe
Dozen of delectable recipes await at UmamiInfo.com. Here's one to whet your appetite. There are intense umami flavors in scallops, crispy bacon and parmesan cheese, not to mention a delightful melange of textures.
Serves 4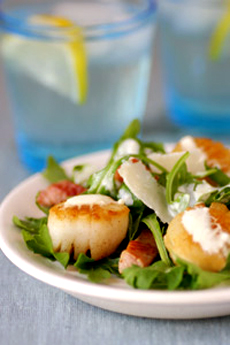 Ingredients
Preparation
Wash the arugula leaves and set aside.
Using a peeler, cut half the Parmesan cheese into shavings for use as a garnish. Grate the remainder.
Cut the bacon into thick matchstick shapes around 1/4" square, and fry until crisp to make lardons.
Next make the dressing. Whisk together the white wine vinegar and mustard powder in a bowl, and add the cream. Mix again, and then add the grated parmesan cheese.
Season the dressing with salt and sugar to taste. Add a little water if the consistency is too thick.
Heat the olive oil in a pan. Season the scallops with salt and pepper and add to the pan. Fry until browned on both sides.
Finally, arrange the arugula on a serving dish, scatter over the Parmesan shavings and bacon, place the scallops on top and drizzle over the dressing.
More Recipes

For more information on umami, including recipes for every season, visit the Umami Information Center.

Shown: Roast Duck and Grape Red Curry.

Note: Some ingredients are written in the metric system (grams, e.g.) and need to be converted; but the Roast Duck is totally readable by Americans.
Continue To Page 6: Taste Bud "Tongue Map"
© Copyright 2005- 2015 Lifestyle Direct, Inc. All rights reserved. Images are the copyright of their respective owners.