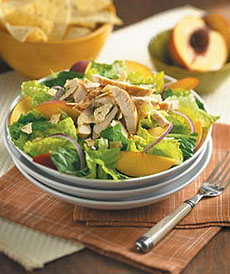 A light salad of peaches, chicken and romaine lettuce serves as a fresh first course. Photography courtesy California Tree Fruit Agreement.

Peach Recipes
Page 2: Chipotle Peach Salad
This is Page 2 of a 5-page article. Click the black links below to view the other pages. For more stone fruit recipes, check out our summer plum article.
On The Menu
Chipotle Peach Salad
A refreshing first course, this salad takes advantage of summer's bounty—fresh peaches and salad greens. Recipe yields 4 to 6 servings.
Ingredients
1

pound boneless, skinless chicken breasts

Salt and pepper

, to taste
1-1/2

tablespoons adobo sauce from chipotle can, divided

1

chipotle pepper

2

ripe white or yellow peaches, divided

3

tablespoons olive oil

3

tablespoons fresh lime juice

1/2

teaspoon salt

1/2 teaspoon sugar
1

bag hearts of romaine

lettuce
1/2

cup quartered and thinly sliced red onion

1/2

cup coarsely crushed white tortilla chips
Preparation
Rinse chicken breasts and pat dry. Sprinkle with salt and pepper and brush with 1 tablespoon adobo sauce.

Grill over medium coals for about 5 minutes per side or until nicely charred and cooked through. Chill, then cut into small bite-size strips.

Meanwhile, peel and pit one of the peaches. Transfer to a blender container with the chipotle pepper, the remaining adobo sauce, olive oil, lime juice, salt and sugar; blend until smooth.

Pit and thinly slice the remaining peach and place in a large salad bowl with the romaine and onion. Drizzle with dressing and toss well to coat. Top with tortilla chips.
Go To Page 3: Shrimp & Summer Fruit Kabobs
Recipes courtesy California Tree Fruit Agreement. All other materials © copyright 2005- 2015 Lifestyle Direct, Inc. All rights reserved. Images are the copyright of their respective owners.