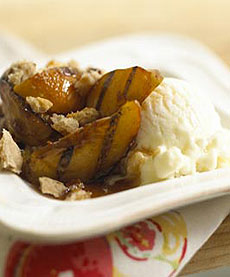 A new twist on upside-down cake, pecan pie and peach cobbler. Photography courtesy California Tree Fruit Agreement.

Peach Recipes
Page 4: Upside-Down Ginger-Pecan Peach Pie
This is Page 4 of a 5-page article. Click the black links below to view the other pages. For more stone fruit recipes, check out our summer plum article.
On The Menu
Upside-Down Ginger-Pecan Peach Pie
It wouldn't be a peachy meal without peach pie. This recipe combines an upside-down cake, a pecan pie and peach cobbler for a delicious summer treat. Recipe yields 1 pie.
Ingredients
1/2 cup flour
1/4 cup powdered sugar
1/4 cup chopped pecans, toasted
2 tablespoons minced crystallized ginger
1-1/2 teaspoons cinnamon, divided
1/2 cup plus 2 tablespoons softened butter, divided
1 tablespoon brown sugar
4 peaches, pitted and cut into 8 slices each
8 small scoops vanilla bean ice cream (optional)
Preparation
Preheat oven to 325°F and lightly butter a loaf pan.

Stir together flour, powdered sugar, pecans, crystallized ginger and 1 teaspoon cinnamon. Add in 1/2 cup butter and mix well to form a soft dough.

Press into the bottom of prepared pan and bake for 25 minutes. Set aside to cool, then break into a rough crumble, leaving some larger and smaller pieces.

Melt remaining butter and cinnamon with brown sugar in a large bowl in the microwave. Toss fruit in butter mixture then grill over high heat for about 1 to 2 minutes on each side to lightly brown. Remove from grill.

Place ice cream in bowls and top with warm fruit and sprinkle with crumbled shortbread.
Go To Page 5: Peaches & Cream Pops
Recipes courtesy California Tree Fruit Agreement. All other materials © copyright 2005- 2015 Lifestyle Direct, Inc. All rights reserved. Images are the copyright of their respective owners.