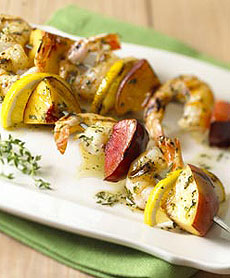 Seafood and stone fruits combine in this summery grilled dish. Photography courtesy California Tree Fruit Agreement.

Peach Recipes
Page 3: Shrimp & Summer Fruit Kabobs
This is Page 3 of a 5-page article. Click the black links below to view the other pages. For more stone fruit recipes, check out our summer plum article.
On The Menu
Shrimp & Summer Fruit Kabobs
Seafood and stone fruits—could there be a more summy combination? Perfect a for an unexpected grilled entree. Recipe yields 5 servings.
Ingredients
1/4 cup extra-virgin olive oil
2 cloves garlic, minced
2 tablespoons chopped fresh herbs (such as basil, marjoram, rosemary and thyme)
1 peach, pitted
1 nectarine, pitted
1 plum, pitted
1 pound large peeled and deveined shrimp
1 lemon, halved and thinly sliced
Salt and freshly ground pepper to taste
Preparation
Heat oil in a small skillet until very hot. Add garlic and cook briefly until aromatic; do not allow the garlic to brown. Remove from heat immediately and stir in herbs; set aside.

Cut peach, plum and nectarine into 1-inch chunks and thread onto skewers alternately with shrimp and lemon slices. Brush lightly with garlic-herb oil.

Grill over medium-high heat for 3 to 5 minutes per side or until shrimp is pink and cooked through. Remove from grill and drizzle with remaining oil.
Go To Page 4: Upside-Down Ginger-Pecan Peach Pie
Recipes courtesy California Tree Fruit Agreement. All other materials © copyright 2005- 2015 Lifestyle Direct, Inc. All rights reserved. Images are the copyright of their respective owners.