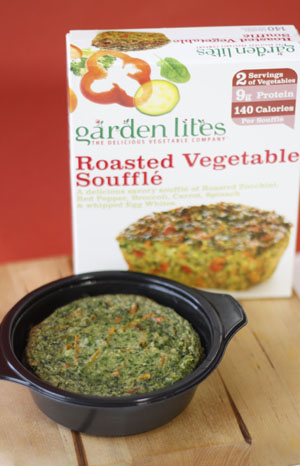 So delicious, it's become a favorite snack in addition to lunch and dinner fare. Shown, Roasted Vegetable, a mixed vegetable soufflé. Photo by Elvira Kalviste | THE NIBBLE.
WHAT IT IS: Frozen vegetable soufflés in individual portions, ready to eat in four minutes.
WHY IT'S DIFFERENT: Healthful, delectable and low in calories.
WHY WE LOVE IT: Delicious and a terrific snack, first course or side.
WHERE TO BUY IT: See store locator. Learn more at GardenLites.com.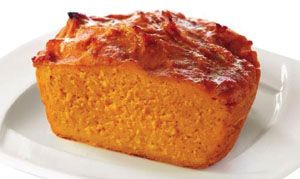 Above, Butternut Squash Soufflé. Below, Cauliflower Soufflé. Photos courtesy Garden Lites.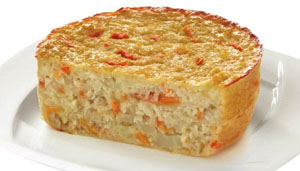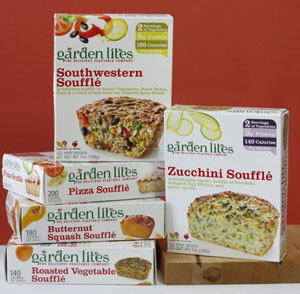 Try them all! Photo by Elvira Kalviste | THE NIBBLE.
Garden Lites Vegetable Soufflés
Jump to the article index below
When we first received a shipment of individual frozen Garden Lites vegetable soufflés, we liked them. But as we ate them day after day, we really liked them. Now, we're hooked.

We endorse the company's philosophy:
In a world filled with processed foods and grab-and-go meals, many of us have lost touch really delicious, wholesome foods made from all natural ingredients. With Garden Lites, you can taste the freshness in each bite.
The soufflés can be cooked in the oven, but come out of the microwave in four minutes or so, depending on the variety.
At about $3.29 or so per individual soufflé, Garden Lites may not be cost-effective for some families. But we consider them an affordable luxury.


Healthful& Fun Vegetable Soufflés

We don't just like the taste; we like the healthfulness and the fun. The vegetable soufflés can be served as first courses, sides or snacks.
Vegetable Soufflé Varieties
Broccoli, a tasty favorite.
Butternut Squash, yummy, sweet and delicious year-round.
Carrot Raisin*.
Cauliflower, one of our favorite veggies in soufflé form.
Pizza (tomato sauce and mozzarella atop the cauliflower flavor).
Roasted Vegetable, a delicious and pretty mix with red bell pepper and carrot in a green broccoli, potato and spinach base; and our favorite variety.
Southwestern, mixed vegetables with Southwestern seasonings.
Spinach (this was the only bland recipe; we added a bit of nutmeg, our favorite spinach seasoning).
Zucchini (light and lovely).

You can eat the soufflés from the bowl or invert them onto a plate for a more elegant presentation (run a knife around the edge and invert onto a pretty plate).
Sauteed Vegetable Varieties
The company also makes two delicious sides
and
Zucchini Marinara
Zucchini Portabella*
These two dishes are easy to make at home (sauté julienned veggies and add Marinara sauce; sauté trips of zucchini and portabella). But if you don't like to cook, or want a four-minute solution, they're great.
*Not tasted.

Low In Calories, High In Flavor
Garden Lites vegetable soufflés have become one of our daily healthy snacks. The Roasted Vegetable Soufflé, for example, has 140 calories (10 from fat), 9g protein and 4g dietary fiber.
The line is:
Gluten-free
Lactose-free (except for the Pizza Soufflé)
MSG-free
Nut-free (and made in a nut-free facility)
Certified kosher by Star-K
Every seven-ounce soufflé or mixed vegetable dish contains two full servings of vegetables
The black plastic bowls are #1 recyclable and BPA-free. But we liked the shape so much, we kept the stylish black bowls to serve first courses or sides of rice. Rather than seeing them as recycled packaging, we view them as an environmental win. If you don't want them on your own table, use them as dishware for dolls and stuffed toys.
Never has eating one's veggies been more satisfying.
— Karen Hochman