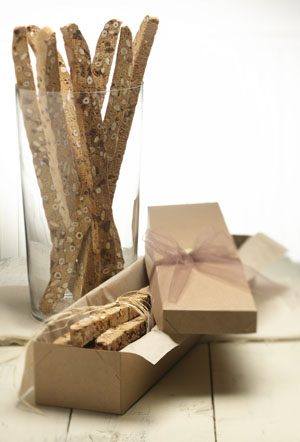 These biscotti are two feet long! Send a Biscotti Bouquet, including the vase. Photo courtesy Tatte.
WHAT IT IS: "Nut box" tart in Almond, Cashew, Hazelnut, Pecan, Pistachio, Walnut and Mixed Nuts; plus cookies and biscotti.
WHY IT'S DIFFERENT: We've never seen a pastry "nut box" before: a box made of buttery pastry crust, lined with caramel and heaped with fresh-toasted nuts.
WHY WE LOVE IT: Brilliant concept and execution: buttery pastry, crunchy nuts and excellent caramel. The heaping of healthy nuts make this a guilt-free dessert (or so we tell ourselves).
WHERE TO BUY IT: See TatteCookies.com. If you live in Massachusetts or greater New York City, you can phone to ask where the nearest retailer is. There are lovely items that are too delicate to ship.

Tatte Nut Tarts & Cookies: It Doesn't Get Better Than This!
Butter Cookies Galore
It's hard to find a bad butter cookie. What's not to like when real butter is mixed with flour and sugar?
Here's what we especially love about Tatte's butter cookies:
Unlike the bakery's generously sized nut boxes and nut tarts, the cookies are gracefully petite. They provide a bite or two of something wonderful and satisfying, and you're not compulsively eating an entire 3- or 4-inch cookie.
Butter Cookies
These rich little rounds are the size of a half dollar. How could one with every cup of tea and coffee possibly hurt you? They also make charming crowns for a scoop of ice cream.
Meringues
The same size as their butter cookie pals, these airy bites, made of egg whites and sugar, are available with ground hazelnuts or pistachios.
Butter Nut Cookies
Want to sink your teeth into a big chunks of pecan or pistachios? The squares of Butter Pecan Cookies or Butter Pistachio Cookies are something special. Barely sweetened, they are another eye-opener that shows that with simple, great ingredients like the finest butter, flour and nuts, you don't need a lot of sugar.
Biscotti
We don't recall ever seeing two-foot-tall biscotti. They are impressive as well as beautifully flavored in two varieties: Original with almonds, hazelnuts, redolent of vanilla; and Fig Biscotti, which adds chewy chunks of dried figs for a unique chewy-crunchy combination. Don't want two-feet-long biscotti? Petit Biscotti, five inches long, are available in bags of 10.
Nothing makes us happier than finding a great bakery. This has been a happy week.
— Karen Hochman
Find shopping information below.