L.A. Burdick Handmade Chocolates
Larry Burdick has been charming chocolate lovers for some time, as you can see from his Almond Rocher Nest below (and on Page 1), his Easter Egg Hunt above, and the Bunny Box at the right, which all have us entranced. And we don't succumb easily!
Easter Egg Hunt
Two chocolate bunnies are nestled in 4-inch-high novelty grass, along with three hand-painted Crispy Eggs, one 4-inch Polka Dot Egg filled with 15 truffles, and hand-rolled marzipan eggs and carrots. (See the photo at the top of the page.) The Crispy Eggs, which can be purchased separately in a half-egg carton of six, come in dark, milk and white chocolate filled with ganache flavored with pear-cranberry, mocha and orange-pistachio and "secret crunch." You can re-fill the centerpiece year-round with different holiday themes. A chocolate Santa in high grass? Sure, when he visits the southern states and Hawaii!

Easter Rocher Nest
Imagine caramelized almond slivers covered in dark chocolate (the French call them rochers, pronounced row-SHAY). The nest is filled with eight truffles, eight marzipan eggs and a small white chocolate bunny with almond ears that's filled with hazelnut ganache (that has a hint of lemon). Each of the nest components—chocolate bunnies, marzipan eggs and truffles—is also available as a separate boxed treat.
The separate box of truffles was a special surprise. While most pieces were profoundly deep, rich, bittersweet chocolate "logs," about an inch long by five-eights of an inch wide, some were round—and a few logs were filled with luscious liquid caramel or buttercream. You couldn't tell which had what center, leading to a different kind of "truffle hunt."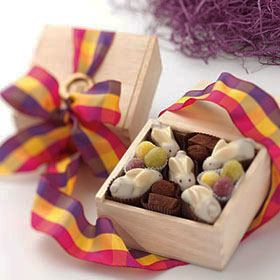 If you don't like nuts, try the chocolate bunnies, chocolate truffles and marzipan eggs packaged in a delightful wooden keepsake Bunny Box.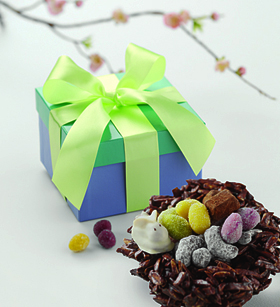 What's in the pretty box? A pretty chocolate almond nest filled with Easter confections. This item is not available in 2010.