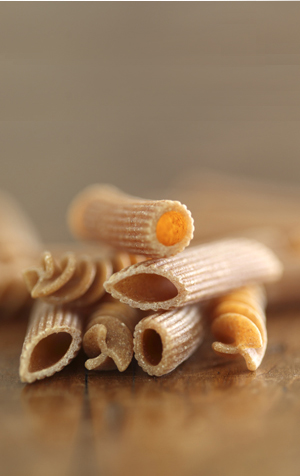 Penne and fusilli einkorn wheat pasta are delightfully nutty and chewy. All photography courtesy Jovial Foods.
WHAT IT IS: Pasta made from einkorn, an ancient wheat.
WHY IT'S DIFFERENT: It's pure, non-hybridized wheat. It has a different form of gliadin than modern wheat strains, so may be tolerable by the gluten-intolerant. However, it is not recommended for celiacs. Discuss with your health care provider.
WHY WE LOVE IT: It has great flavor and texture, and it's whole grain, including the health benefits of the wheat and germ.
WHERE TO BUY IT: Whole Foods Markets and Amazon.com.

Page 2: Einkorn Wheat Pasta
It's Good For You!


Jovial Foods History
You may remember Ötzi, the Bronze-Age man whose perfectly preserved remains were found in a glacier in the Italian Alps in 1991. Analysis of the remains revealed that his last meal consisted of red deer meat and processed einkorn, possibly in the form of bread.
A group of Italian researchers became curious about einkorn and began a decade of study. The findings so intrigued the founders of Jovial Foods that they began to work closely with the researchers to bring the supply of seeds and grain back to life. As a relict crop, there were patches of einkorn in a few remote spots around the Mediterranean, and the wheat still grew wild. The process led to the world's first domesticated wheat being grown in Italy once again.
While pasta didn't exist in Ötzi's world, it's a main component of modern Italian cuisine. So, what better way to meld past and present than with pasta—the first-ever einkorn pasta.
Jovial's First Ever Whole Grain Einkorn Pasta line offers delicious fusilli, linguine, penne, rigatoni, and spaghetti—much more delicious than the forms of einkorn that Ötzi and his fellow villagers enjoyed, thanks to 5,300 years of advances in cooking.
But einkorn is far older than Ötzi. It was first cultivated 12,000 years ago at the birth of agriculture, before hybridization of plants and animals weeded out some characteristics in favor of others. This makes einkorn one of the purest of foods.
We ate our way through the five different cuts of Jovial Foods' einkorn pasta. We're now giving it as gifts to everyone we know who appreciates toothsome, nutty pasta.
Read the rest of the review below and order enough for your kitchen and for stocking stuffers.
We predict you'll be hearing a lot more about einkorn.