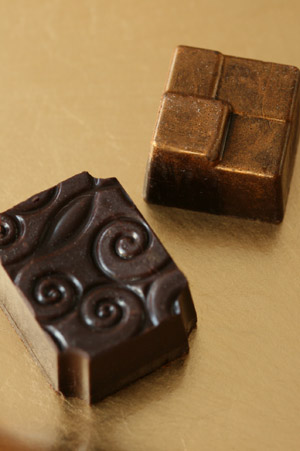 At left, a chocolate ganache infused with smoky Dalmore single-malt Scotch. At right, the ganache is filled with 14-year-old Oban Scotch. Photography by River Soma | THE NIBBLE.
WHAT IT IS: Scotch-infused luxury chocolates for your Valentine or for any special occasion.
WHY IT'S DIFFERENT: It's the only collection we know of that offers so many different varieties of Scotch-infused ganache.
WHY WE LOVE IT: Very special, very delicious.
WHERE TO BUY IT: Buy Online Here .

Valentine Chocolates Page 2:
Chocolate Malts Scotch-Infused Chocolate
Overview
Chocolate Malts has a singular focus: to create artisan chocolates from high quality chocolate and single malt Scotch whiskey.
These are chocolates for Scotch-lovers. In fact, the idea was conceived over several drams of single malt and a few pounds of chocolate.
Ryan Zink, a founder of the Wichita Whiskey Club, noted that chocolate made by a local chocolatier—some infused with Scotch—was a staple for tastings. With his years of experience tasting Scotches from every region of Scotland, he envisioned an entire line of Scotch-infused chocolates, each conveying the flavors of its region. Wife Sarah Zink experimented for some time before perfecting the line.
The whiskey comes from different distilleries representing nearly every region of Scotland. The Scotch-infused ganaches are alternatively peaty, smoky and sweet. The chocolate couverture is Guittard, from San Francisco.
The Classics:

Start with a Highland or Speyside collection—or both.
The Peaty: If you love the peaty Scotches of Islay such as Laphroaig, there's a collection of three Islay Scotches.
The Exotic: The Island Collection features Scotches that are off-the-beaten-path.
We can't wait for the Scotch Cordials Collection and Scotch Cremes Collection, due this spring.
The gold boxes are tied with a bright red plaid ribbon. The four-piece boxes are great as party favors or for gift bags.
Shopping information is below.
— Karen Hochman