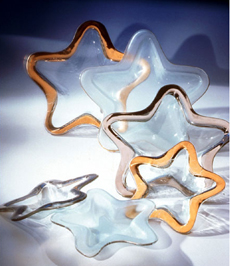 Any food becomes a star in these Star Bowls from Annieglass.


Casual Dishes
Plates And Bowls That Make Any Food Look Better
So many dishes, so few photos! We have stacks and stacks of beautiful tableware to share with you—awaiting photography. Our photographers are too busy shooting THE NIBBLE's food! As a picture is worth a thousand words, please check back soon!
Nibble Tip

If you purchase or receive a set of sushi plates and soy sauce bowls as a gift but rarely have sushi at home, put them to a multitude of other uses. Think fruit or vegetables with dipping sauces, or a first course with a side. And of course, you can separate the plates and bowls and put them to other purposes: use the soy sauce dishes as individual nut or condiment dishes, and the sushi plates as you would any interesting plate.

Sushi Set by Michael Wainwright.


Related Food Videos:



For more food videos, check out The Nibble's Food Video Collection.


© Copyright 2005-2015 Lifestyle Direct, Inc. All rights reserved. Images are the copyright of their respective owners.