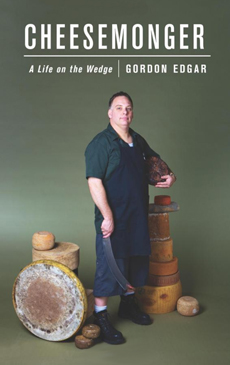 Does Dad love cheese? Then give him this book so he too might find an unusual path toward becoming a serious cheesemonger.

Gourmet Father's Day Gifts 2010
Page 2: Books For Dads
This is Page 2 of a six-page Father's Day gift list. Click on the black links below to view the other pages. Also check prior years' Father's Day recommendations in our Gift Finder and look in any section of our Main Nibbles for Dad's favorite foods.
Prices and product availability are verified at publication but are subject to change. Shipping may be additional. THE NIBBLE does not sell products; these items are offered by a third party with which we have no relationship. They have been recommended because we think they are outstanding products.
Books For Dad

Cheesemonger
A Life On The Wedge

How does a man raised on Velveeta and Kraft Singles end up as a professional cheesemonger? Follow the journey of Gordon Edgar, and in the process learn the intricacies of cheese.

Cheesemonger ~ A Life On The
Wedge
By Gordon Edgar
$17.95 (List Price)

Purchase online at Amazon.com

The Kentucky Bourbon Cookbook

Bourbon fans will find a wealth of new ways to enjoy the spirit. Those who have only used Bourbon in pies and bread puddings now have entire menu possibilities: appetizers, soups, salads, side dishes, main courses and of course, cocktails and desserts. Recipes are organized by season and are intended for the home cook: easy to prepare.

Purchase online at Amazon.com




Michael Jackson's Complete
Guide To Single Malt Scotch ~ A
Connoisseur's Guide To The Single
Malt Whiskies Of Scotland

Lovers of single malt Scotch must have this volume by the great writer Michael Jackson. In addition to a thorough education on single malts, there are reviews of virtually every single malt—some 800 in all. Package the book with a bottle of single malt, and Dad will be even happier.

Purchase online at Amazon.com




Macmillan Audio:
Behind The Wheel Language Learning Program

Dads are already masters of multitasking, so why not give them something to enrich their minds as they're sitting in traffic or working in the garage? Dad can get more in touch with his favorite International cuisine with a Behind The Wheel language learning program. These programs help listeners re-familiarize themselves with foods and cultures they may already know, or introduce new ones with its quick learning techniques. Available in Arabic, French, German, Italian, Japanese, Mandarin Chinese, Polish, Portuguese, Russian and Spanish for beginners. Intermediate CDs for a few of the languages are also offered for those who are more advanced in their foreign language skills.

Macmillan Audio Behind The Wheel
Language Learning Program In 10
Languages Compact Disc
$49.95
Digital Audio
$29.95


Photo courtesy Macmillan.

The Most Beautiful Wine Cellars In The World

Wine enthusiasts will love this peek into the most beautiful, impressive and atmospheric wine cellars in the world. This book, packed with full-page photographs, takes readers on an intercontinental journey through ancient, hidden "treasure troves" as well as the glamorous wine cellars of wine-producing hotels, private individuals, restaurants and wine merchants. Even if Dad gets by with plain wood racking, he'll love seeing how the other half lives (or at least, how they store their wines).

The Most Beautiful Wine Cellars In
The World
By Astrid Fobelets & Jurgen Lijcops
$89.50 (List Price)

Purchase online at Amazon.com
Continue To Page 3: Chocolate & Sweets
© Copyright 2005- 2022 Lifestyle Direct, Inc. All rights reserved. Images are the copyright of their respective owners.