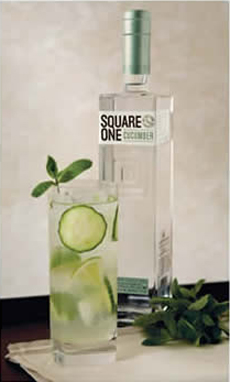 Try a cucumber martini made with Square One Organic Cucumber Vodka after a long day. Photo courtesy Square One.

Gourmet Father's Day Gifts 2010
Page 6: Alcohol For High Spirits
This is Page 6 of a six-page Father's Day gift list. Click on the black links below to view other pages. Also check prior years' Father's Day recommendations in our Gift Finder and look in any section of our Main Nibbles for Dad's favorite foods.
Prices and product availability are verified at publication but are subject to change. Shipping may be additional. THE NIBBLE does not sell products; these items are offered by a third party with which we have no relationship. They have been recommended because we think they are outstanding products.
Spirits

Copper Fox Distillery:
Wasmund's Two-Liter Barrel Kit

Perhaps Dad would like to make his own whiskey? If being a whiskey taster is on his list of dream jobs, here's how to make it come true as a hobby. The barrel comes with clear, unaged single malt from Wasmund's boutique Virginia distillery, along with an oak barrel. You fill the barrel with the clear whiskey and let it age for four months or more. You taste it noting how the flavor becomes smooth and the color turns to bronze. Then you age some more and taste to see more flavors develop. After your first batch is done, the barrel can be reused to make more, with the layers of flavors and complexities evolving with each use. How fun is this?

Copper Fox Distillery 2-Liter Barrel
Holds Two Bottles
$45.00
Two-Liter Barrel Kits
$90-$105 (Depending On The
Location)


What's more thrilling than aging your own Single Malt Scotch? Photo courtesy Fox Distillery.

FAIR.:
Fair Trade Quinoa Vodka

We can't say that we like their difficult-to-comprehend-and-execute spelling, but FAIR. Vodka (yes, there's a period after the brand name) pursues a noble cause: making products from Fair Trade ingredients. It's the first Fair Trade vodka in the world, as well as the first one made with the supergrain, quinoa. The production process is the result of two years of joint research by French distillers and Bolivian quinoa farmers. This unique spirit deserves a FAIR. test.


Is it FAIR. to make us use a period in the middle of a product name? Photo courtesy FAIR. Vodka.

Square One:
Organic Cucumber Vodka

Dad will be cool as a cucumber with a glass of Square One Cucumber Organic Vodka. This deliciously aromatic spirit imparts the delicate and fresh taste of cucumber with certified organic American rye vodka. Enjoy it neat (with a cucumber slice), in a cucumber Martini, with tonic and a lime twist or however you enjoy vodka.

Square One Organic Cucumber
Vodka
750ml
$34.00


Cool as a cucumber. Photo courtesy Square One.
© Copyright 2005- 2023 Lifestyle Direct, Inc. All rights reserved. Images are the copyright of their respective owners.