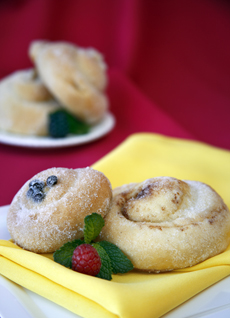 These homemade swirly buns from Just Buns come in both sweet and savory varieties, in more than a dozen flavors. Photo by Katharine Pollak | THE NIBBLE.

Gourmet Father's Day Gift Ideas 2010
Page 5: Gourmet Food Gifts
This is Page 5 of a six-page Father's Day gift list. Click on the black links below to view other pages. Also check prior years' Father's Day recommendations in our Gift Finder and look in any section of our Main Nibbles for Dad's favorite foods.
Prices and product availability are verified at publication but are subject to change. Shipping may be additional. THE NIBBLE does not sell products; these items are offered by a third party with which we have no relationship. They have been recommended because we think they are outstanding products.
Gourmet Food Gifts

Dee Dee's Gourmet:
Cheese Straws & Minis

Cheese straws are addictive: buttery pastry flavored with Cheddar, Parmesan or other cheese. Dee Dee's makes them in long straw form or in the bite-size nibbles shown at right. They're addictive as a crunchy treat, and perfect to serve with beer and Martinis. If Dad likes his snacks spicy, order the Jalapeño Cheddar flavor. For large orders (15 tins or more), you can have a custom label for $25 (free if you order more than 50 tins). Keep that in mind for holiday gifts.

Gourmet Cheese Straws
4.125-24 Ounces
$3.95-$15.95



Dee Dee's Gourmet Cheese Straws are a satisfying, bite-sized snack. Photo by Hannah Kaminsky | THE NIBBLE.

Morning coffee just got more interesting. These all-natural, homemade, hand-rolled swirly buns come in both sweet and savory varieties in more than a dozen flavors that include Almond, Chocolate, Cheese, Peanut Butter & Jelly and Pepperoni. Dad can enjoy them as is, or warm from the microwave.

Sweet Swirlys
$2.25 Each
$22 A Dozen
Savory Swirlys
Mini Swirly Buns
$12 A Dozen


Sweet and savory buns are delicious for breakfast and snacks. Photo by Katharine Pollak | THE NIBBLE.

Is there a more appropriate gift for a dad or grand-dad than an olive oil made by three generations of Californians working together? The Lucero family, which includes grandfather, father and grandson—makes delicious artisan oils. You can send one bottle, a gift set or anything in between.

Lucero Olive Oil
250-500ml


$7.00-$28.00

Customized Gift Boxes Are Also
Available


The single-cultivar oils let you taste the differences among different olive types. Photo by Hannah Kaminsky | THE NIBBLE.

Perky Jerky:
Caffeinated Beef Jerky

Perky Jerky is "the world's first all-natural performance enhancing meat snack." In other words, protein- and sugar-laden beef jerky has been caffeinated with guarana, a natural energy booster with about twice the caffeine content of a coffee bean. The idea is, if you need energy but don't like energy drinks or coffee—or if you're simply hungry—tear open a portion-controlled package and enjoy a flavorful snack full of nourishment and energy. Caffeinated beef jerky: Gotta love it—and we did. The 100% beef jerky is tender and flavorful and yes, it gave us ENERGY! A new NIBBLE favorite snack.

Perky Jerky
12 One-Ounce Packages
$30.00
12 Two-Ounce Packages
$59.88


This jerky will make you perky—and soothe your jones for excellent beef jerky. Photo by Jerry Deutsch | THE NIBBLE.

If Dad likes to cook, he'll enjoy these delicious meatball mixes. BYO beef or turkey, and mix it with the delicious seasonings to create Spicy, Traditional and Turkey Calabrese. There's also a Gluten-Free Calabrese meatball mix.

Porta Mangiare Meatball Mix
Set Of Three
$14.97/

$17.97

Gluten Free
Set Of 6
$28.44/

$34.14

Gluten Free
Set Of 12
$53.89/

$64.69

Gluten Free

Gourmet meatball mix. Photo courtesy Porta Mangiare.

These are not just any ol' beans. As grown by heirloom bean specialist Rancho Gordo, they are beautiful to look at and eye-opening in their flavor. The Deluxe Gift Box is full of Rancho Gordo heirloom beans, including Cargamanto Cranberry, Mayacoba, Midnight, Christmas Lima and Vaquero. The gift also includes an autographed copy of Heirloom Beans by Steve Sando and Vanessa Barrington and a tote bag—but Dad won't be toting these beans: He'll be devouring them and asking for more!


Rancho Gordo Deluxe Gift Box
Book, Heirloom Beans & Tote bag
$51.99


The best beans. Photo courtesy Rancho Gordo.
Continue To Page 6: Liqueurs & Other Beverages
© Copyright 2005- 2023 Lifestyle Direct, Inc. All rights reserved. Images are the copyright of their respective owners.