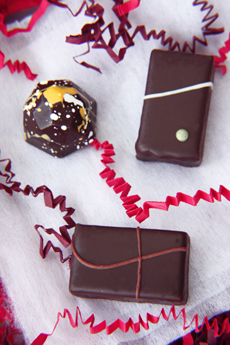 These more-than-a-mouthful truffles from Seth Ellis are delicious, nut-free, gluten-free and organic. Photo by Katharine Pollak | THE NIBBLE.

Gourmet Father's Day Gifts 2010
Page 3: Chocolate & Sweets
This is Page 3 of a six-page Father's Day gift list—be sure to check out the chocolate cigar. Click on the black links below to view other pages. Also check prior years' Father's Day recommendations in our Gift Finder and look in any section of our Main Nibbles for Dad's favorite foods.
Prices and product availability are verified at publication but are subject to change. Shipping may be additional. THE NIBBLE does not sell products; these items are offered by a third party with which we have no relationship. They have been recommended because we think they are outstanding products.
Chocolate & Sweets

Triple Chocolate Duo

Triple Chocolate Almonds are the best-selling product at this San Francisco chocolatier. We love them (Orange Twigs are another of our favorites.) Triple Chocolate Hazelnuts were launched due to customer demand. Coated with two types of chocolate plus cocoa powder, order your own stash because Dad may not share. Read our full review of Charles Chocolates.

Triple Chocolate Nuts Duo
Two Cans, 12.8 Ounces
$22.00
Can Be Purchased Individually

Buy online at CharlesChocolates.com


Terrific chocolate-covered almonds and
hazelnuts. Photo courtesy Charles Chocolates.

Guittard:
Bittersweet Chocolate Sprinkles

Real chocolate sprinkles are hard to find—most are made from vegetable oil. Treat Dad to these Bittersweet Chocolate Sprinkles from top chocolate-maker Guittard. They're made of chocolate, sugar, lecithin and vanilla—the ingredients of real chocolate. They make ice cream taste so much better.

Guittard Bittersweet Chocolate
Sprinkles
6 Ounces
$3.95




Sprinkle them on ice cream and cappuccino. Photo courtesy Guittard.

Gourmet Peanut Butter Bars & Peanut Brittle Bites

Dads who like chocolate, peanut butter and crunch are in for a treat. Jer (Jerry) has improved upon that already excellent combination with exciting chocolate bars and bites. Adding pretzel, toffee or caramel layers, they're super gifts. Jer has evolved into peanut brittle, with the same approach. The line is certified kosher (dairy) by OU. Read our full review of Jer's Handmade Chocolates.

Jer's Gourmet Peanut Butter Bars
4-pack (8 bars)
$20.00
Jer's Gourmet Peanut Brittle Bites
8-Pack Tray
$20.00

Buy online at Jers.com


Peanut butter chocolate bar heaven. Photo by Evan Dempsey | THE NIBBLE.

Seth Ellis Chocolatier:
Organic Chocolate Truffles

For Dads who've gone green (or who simply prefer organic foods), this 18-piece gourmet chocolate collection will hit the spot. Each gluten-free, nut-free piece is a work of art (see the photo at the top left of the page).

Seth Ellis Organic Chocolate
18-Piece Collection
$25.00



Photo by Katharine Pollak | THE NIBBLE.

Woodhouse Chocolate:
Chocolate Cigar

Even Dads who don't smoke cigars will enjoy this treat: These milk chocolate cigars are filled with a milk chocolate ganache flavored with a fine 10-year-old single malt Scotch, Laphroaig. The subtle smoky/peaty character of the Scotch is glorious in the ganache. Read our full review of Woodhouse Chocolate, a NIBBLE Top Pick Of The Week.

Photo courtesy Woodhouse Chocolate.
Continue To Page 4: Club Gifts
© Copyright 2005- 2023 Lifestyle Direct, Inc. All rights reserved. Images are the copyright of their respective owners.