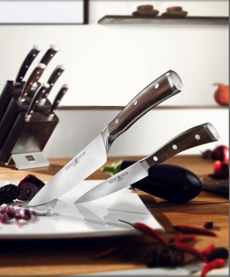 The unique handles on these handsome Wüsthof knives will make every Dad proud to own one. Photo courtesy Wüsthof.

Gourmet Father's Day Gifts 2010
Page 1: Appliances & Kitchenware Gifts
Our 2010 selection of specialty food gifts for Dad include something for everyone. This is Page 1 of a six-page Father's Day gift list. Click on the black links below to view the other pages. Also check prior years' Father's Day recommendations in our Gift Finder and look in any section of our Main Nibbles for Dad's favorite foods.
Prices and product availability are verified at publication but are subject to change. Shipping may be additional. THE NIBBLE does not sell products; these items are offered by a third party with which we have no relationship. They have been recommended because we think they are outstanding products.
Appliances & Kitchenware Gifts

Fred & Friends:
Cool Beans Ice Cube Tray

For iced coffee lovers, there's no better gift than a Cool Beans ice cube tray. Pour coffee into the ice cube tray and freeze. The jumbo coffee bean ice cubes keep ice coffee from dilution by regular cubes, and are fun to look at.

Purchase online at Amazon.com.


Iced coffee is now better and more fun. Photo courtesy Fred & Friends.

Nespresso:
CitiZ Automatic Coffee & Espresso
Maker & Milk Frother

Nespresso's CitiZ, pronounced sih-TEEZ, is a honey of a coffee maker. Sleek and metropolitan, it not only looks like a skyscraper, but it has a narrow footprint that doesn't hog room on the kitchen counter. There's a built-in milk frother—a more glam version of our beloved Nespresso Aeroccino—for cappuccinos and lattes. The user-friendly design includes a fold-up cup balcony to accommodate larger cups and glasses; the water reservoir is easy to access and holds more than a quart. Like many single-serve systems, you are limited to the manufacturer's coffee capsules; but there are many varieties and they are all excellent.

Find a store locator at Nespresso.com and get a $50 credit toward the capsules.


Choose from black, white, red or gray. Photo courtesy Nespresso.

Roasted Garlic Express:
Garlic Roaster

Garlic lovers can enjoy delicious roasted garlic at the flick of a switch. The Roasted Garlic Express roasts up to 4 garlic bulbs in less than 30 minutes—half of what it takes in a regular oven. Eat straight from the clove as a low-calorie snack or side. Or mash and spread over bread, in baked potatoes and pasta or as a condiment with broiled/grilled proteins. There's an automatic shutoff feature, the removable roasting cup has nonstick coating for easy clean up'xz and it's dishwasher safe.

Garlic Roaster
Colors include black, clay, silver
stainless steel & white
$29.99-$34.95


Roasted garlic is healthy and low in calories. Photo courtesy Roasted Garlic Express.

Waring Pro:
Professional Double Belgian Waffle Maker

Why make one waffle at a time when you can make two? We love the Waring Pro Professional Double Belgian Waffle Maker. It's a simple way to make two large Belgian waffles in minutes because they cook simultaneously, thanks to its 360° rotating hinge. The browning control knob allows for even cooking on the top and bottom, and is adjustable for different batters and personal preferences. There's no guessing: The unit has audio beep tones to indicate when the waffle maker is ready to use and indicator lights that illuminate when each waffle is done.

Waring Pro Professional Double
Belgian Waffle Maker
Brushed Stainless Steel
$99.99



There's no waiting when you can make two large waffles at once. Photo courtesy Waring Pro.

Wüsthof Knives:
IKON Blackwood Series

Fine knives are designed for beauty as well as function. Nothing makes a cook feel better than a great new knife—or in this case, an entire set of knives. This IKON Blackwood Series from Wüsthof shouts "professional": The dark brown hues with distinctive wood-grain markings make every knife unique. The handles are made of Grenadill wood (African Blackwood), one of the hardest woods in the world. Each blade has an extraordinary sharpness, and they're perfectly balanced for effortless cutting.


IKON Knives ~ Blackwood Series
$79.95-$275.00 Each
Sets Are Also Available

For a list of dealers and online retailers, visit Wusthof.com


Handsome in hand. Photo courtesy Wüsthof.

Continue To Page 2: Books For Dads
© Copyright 2005- 2022 Lifestyle Direct, Inc. All rights reserved. Images are the copyright of their respective owners.