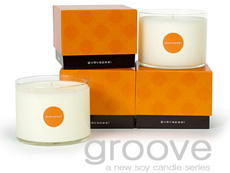 Fragrant, high-quality, contemporary, unisex, and in the groove. Above,
Guavapeel.

Bluewick
Amazingly Fragrant Soy Candles
From a Los Angeles kitchen to California farmers markets, Bluewick and soy have come a long way. Since their first collection in 1995, they have become the industry leader in premium soy wax candle products.
Soot-free, clean-burning soy candles are replacing beeswax in the finest homes; and Bluewick's sleek, handcrafted line of 100% U.S. grown soy wax fits into any room in the house. The candles are made of the finest essential and fragrance oils and have all cotton paper core wicks. They yield lovely, natural fragrances.

The Groove candle series comprises 15-ounce candles that burn 100 hours. The glass candleholders are minimalist chic, and the boxes handsomely designed for gift-giving. We see a lot of candles: this line has it going on.

Making Scents

Bluewick does a lovely job with the fragrances. Fruit scents are not cloying, herbal fragrances are not vegetal. Scents are natural, refreshing, and unisex. The eight Groove fragrances are contemporary blends, with something for everyone:

Yuzu
Anjoumint

combines green tea and mint with essence of anjou pear to bring this fresh yet sophisticated candle to life.
Avocado evokes the fruit without the calories: notes of hay and grass and seem positively healthy.
Blackberry is a burst of several citrus and fruit fragrances blend with essence of blackberry—a fruity delight.
Guavapeel blends vibrant notes of mandarin and lime with subtle cassis and white amber to universally appeal.
Peacharine is a colorful cocktail of tangerine, peach and nectarine wonderland. Vibrant and colorful notes of all things summer come to life in the Peacharine candle.
Redfig effuses masculine notes of fig entwined with minor notes of sandalwood, hyacinth, and cedarwood.
Whiteflower is a classic floral, with sultry notes of tuberose, frangipani, water lilies and white blossoms.
Yuzu captures the essence of the Japanese citrus fruit with invigorating notes of grapefruit and lime.
| | | |
| --- | --- | --- |
| | | |
| Blackberry | Peacharine | Whiteflower |
The candles infuse the room with subtle fragrance. If you're already a candle person, you'll appreciate the quality of Bluewick's Groove. If you haven't yet experienced the aromatherapy benefits of a good candle, this is a good place to start.
BLUEWICK GROOVE SOY CANDLES

Anjoumint, Avocado, Blackberry, Guavapeel, Peacharine, Redfig, Whiteflower, & Yuzu.

Purchase online at Home 101.
Free shipping with two or more.

Prices and scent availability subject to
change.

Enjoy Avocado without the calories.