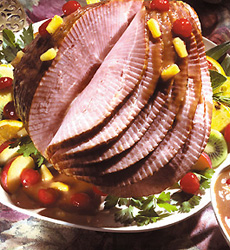 What a beauty of a ham! See our favorite hams. Photo courtesy of Cherry Marketing Institute.


Ham Trivia Quiz #1
Answer A Few Fun Food Trivia Questions & Learn More About Ham
If you read old English novels, you may observe people eating gammon. In England, Scotland and Ireland, ham was traditionally known as gammon, from an Old French word for the hind leg of the pig, gambon (gambe was leg; leg in modern French is jambe and ham is jamon). Modern Brits use the word ham, but "gammon" can still be found in clubs and inns and countrysides. Like this piece of trivia? Get ready for more in our quiz!
You must have cookies or Javascript enabled in your browser in order for the survey software to function.
TAKE THE QUIZ




Related Food Videos:



For more food videos, check out The Nibble's Food Video Collection.


© Copyright 2005-2015 Lifestyle Direct, Inc. All rights reserved. Images are the copyright of their respective owners.