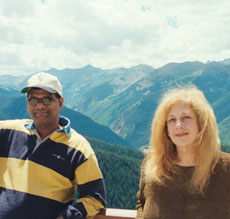 Wine Editor Kris Prasad and Editorial Director Karen Hochman take a break from wining and dining at the Food and Wine Magazine Classic at Aspen.

Editorial Staff
You can contact a specific staff member by writing to that person's first name at TheNibble.com or to our general Editors email box, where it will be read and sent to the appropriate person. We appreciate all of your comments and feedback.
Karen Hochman
Editorial Director
Karen, a New York foodie, is the founder of THE NIBBLE. She had been dining royally around town since high school. Upon receiving an MBA, it was not surprising that she went to work for the CEO of Bloomingdale's and was sent on assignment to the gourmet housewares department. She never left the sixth floor, metaphorically speaking; although she did switch to a career in corporate marketing and advertising. It was at Citibank for credit card customers that she began to write her first culinary newsletters. A cutting-edge cook, she is thrilled to be putting out a virtual buffet of specialty foods.
Cricket Azima
Contributing Editor, Family & Children
Cricket Azima is a professional chef and cookbook author who specializes in cooking for and with children. Since 1999, Cricket has given cooking classes to more than 1,000 children at schools, Girl Scout groups, the Children's Museum of Manhattan, Whole Foods Market and other locations throughout the New York area. She is the Director of Kids' Programs for Kidfresh, an innovative company in New York City offering all natural, freshly prepared foods for kids. Previously, as the Food Editor for KIWI magazine, a bi-monthly family magazine focused on healthy and organic living, Cricket focused on international recipes and food-related culture. Cricket's newest children's cookbook, Everybody Eats Lunch, was published by Glitterati Inc., in May, 2008. She is also a mom and a spokesperson for a several food companies.
Rowann Gilman
Contributing Editor
Rowann has spent more than 20 years in senior editorial positions at In-Touch Weekly, Woman's Day Holiday Baking, Light Meals in Minutes, Jenn Air's Creative Cooking, and other special-interest publications. She was editor-in-chief of Changing Homes and Decorating Editor of McCall's. She is also a passionate cook and baker—but, she hastens to add, accepts invitations to enjoy others' cooking and baking.
Ruth J. Katz
Contributing Editor, Home Zone
A contributing editor at New York Magazine and Redbook, Ruth is an expert in consumer goods and services. Her articles have appeared in The New York Times, the Daily News, Self, Woman's Day, and many others. Ruth explains that she has a black belt in shopping. For Nibblers, she'll be hunting "finds" in kitchen appliances and gadgets, tableware and items for entertaining. We hope no one gets hurt.
Georgi Page
Contributing Editor, Gluten Free Foods
Georgi is an integrated marketing expert who focuses on digital marketing, production and communications. She also lives a gluten-free lifestyle, and focuses on finding the best gluten-free products for THE NIBBLE.
Kris Prasad
Contributing Editor, Wine
Kris, who holds a Ph.D. in chemistry, has been a wine instructor in New York City for more than 10 years and has sailed the Seven Seas as wine lecturer for the Royal Viking Line. As the New York sectional winner of a Wines of Spain competition, he was rewarded with an all-expenses-paid trip to their great wine regions; and in non-prize-winning years pays for his own trips to the finest vineyards of Europe. A dazzling chef as well as a great palate, Kris is the director of a wine-and-food-connoisseurs' tasting group. We consider it a good day when he brings in leftovers.
Andy Whitman
Contributing Editor
Andy has spent his entire career in food, and has expertise in specialty, natural and organic, and mass market foods. His trend articles, featuring the best of industry trade shows, are read by more than 10,000 professionals. Andy is also a craft beer enthusiast, but to date has been too modest to take on this area of reporting for THE NIBBLE.
Lester Brickman
Wine Writer
Lester, who is based in New York City, has spent considerable time in France focusing on food and wine. Like Robert Parker, he is an attorney by trade.
Peter Rot
Chocolate Reporter
After an epiphanic taste of Valrhona Le Noir Amer 71%, Peter's passion for chocolate became a full-fledged scholarly pursuit. He recently completed a graduate degree in one of the worst places to ship chocolate, New Mexico, and moved to cooler Portland, Oregon. Peter is also a reviewer for the international chocolate connoisseurs' discussion forum, SeventyPercent.com.
Laura Sauer
Social Media Coordinator
Prior to joining The Nibble team, Laura was a social media coordinator at Agent-cy.com, a digital advertising agency. Before then, she was an associate at Leibowitz Branding & Design.
Writers
Philip Abrams, Bob Bartley, Emily Chang, Sue Ding, Steven Gans, Leah Hansen, Hannah Kaminsky, Dan Whitman.
Photographers
Edward Hochman, Elvira Kalviste, Scott Lasser.


Related Food Videos:



For more food videos, check out The Nibble's Food Video Collection.


© Copyright 2005-2015 Lifestyle Direct, Inc. All rights reserved. Images are the copyright of their respective owners.