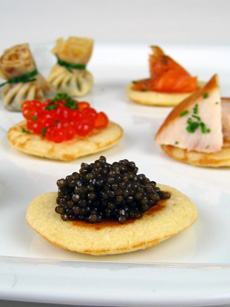 Blinis are just one kind of pancake. Read about dozens of others in the Pancake & Waffle Glossary. Or, read up on the many kinds of caviar in the Caviar Glossary. Photograph courtesy of Caviar Russe.
Last Updated August 2015

Directory of Food Glossaries
Our Food Directories Are "Crash Courses" In Tasty Topics
Here's a food glossary (food dictionary) for almost every occasion: a collection of food terms in specific areas. Consider these as "food lover's guides" for areas of your passion, or areas you'd like to learn more about. These quick and easy reference glossaries are more than food dictionaries: Many are packed full of information and historical reference, and are fascinating reading.
Use the Contact Us link on this page to recommend a new glossary topic.
*Asterisks indicate our Top 10 most popular glossaries.
| | |
| --- | --- |
| What are the different grades of maple syrup and which should you buy? Check the Maple Syrup Glossary. | |
| | |
| --- | --- |
| Knife Glossary: Coming Soon! | Alaea Hawaiian volcanic salt is one of dozens of exciting artisanal salts that add new dimensions of flavor to food. Discover the others in our Salt Glossary. |

Are these penne, rigatoni, rigate, candele or casarecci? Find the difference in our Pasta Glossary, a reader favorite. (Hint: They aren't penne! Click on the photo for the answer.)

Pudding Glossary: Coming Soon!
Sauce Glossary: Coming Soon!


Uncover the mysteries of sushi in our Sushi & Sashimi Glossary, one of our most popular.

© Copyright 2005- 2015 Lifestyle Direct, Inc. All rights reserved. Images are the copyright of their respective owners.