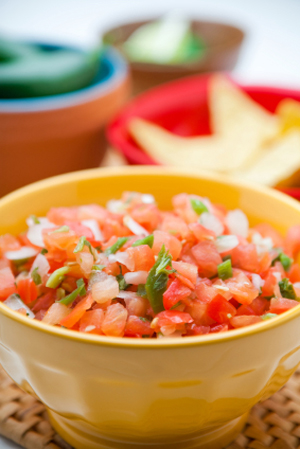 Fresh tomato salsa: the healthiest dip in the world. Photo by Jim Jurica | IST.
WHAT IT IS: Fresh salsa or salsa cruda, the original form of America's favorite condiment.
WHY IT'S DIFFERENT: Packaged fresh or pasteurized, it adds flavor without calories.
WHY WE LOVE IT: Flavor, versatility and low calories. The health benefits are a plus.
WHERE TO BUY IT: At almost every grocer in America.

Let's Salsa: Bring The Fresh Veggies, Dancing Optional

CAPSULE REPORT: Salsa is one of the few foods beloved by millions that is 100% good for you. (Just don't eat the whole bag of chips.)
Salsa is the generic Spanish word for sauce in Mexico; but unless you're specific, you're going to be served the region's variation of fresh tomato or tomatillo salsa.

In addition to tasting great, here's why tomato salsa is a wonder food:
Salsa is very low in calories and has virtually no fat. Just keep away from fruit salsa and the horrific tendency some American salsa makers have of adding sugar* to their entire salsa line, and you'll be in great shape. Salsa is a better substitute for sugar-laden ketchup.
*Is there any savory food left that the sugar lobby hasn't invaded? It's in bread, mustard and other condiments, salad dressing, prepared foods and just about every recipe we come across. Read labels and vote with your dollars—don't buy it.
Tomato salsa is full of heart-healthy lycopene. Lycopene, a bright-red carotenoid pigment, is the most powerful of the carotenoid family, a very potent phytochemical (a type of antioxidant). Salsa is high in vitamin A, vitamin B6 and vitamin C (another antioxidant). It's a good source of iron, magnesium and potassium, which helps to maintain normal blood pressure.
By the way, you'd think that salsa fresca/salsa cruda, which is uncooked salsa, would be better for you. But cooked, processed tomatoes (which are part of shelf-stable, bottled salsa) are a better source of lycopene. The heat makes the carotenoids absorb more readily. But don't let that deter you from enjoying salsa fresca!
What about salsa verde? Salsa verde, or green salsa, is made with tomatillos. Tomatillos are not members of the tomato family, so how do they fit in to this happy nutrition picture?
You'll find out on the next page. Before you click away, look at the article index below.