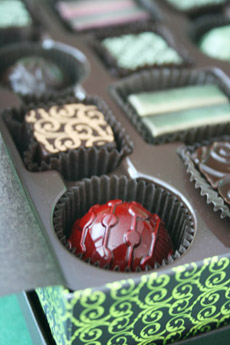 An example of some of the finest gourmet food online: chocolates made in America by French-trained
Antoine Amrani
. Click on the link to read our review. Photo by Hannah Kaminsky | THE NIBBLE.

Gourmet Food Online: "Top Pick Of The Week" Archives By Manufacturer
Find Food Product Reviews By Gourmet Food Company
We review the best gourmet food online. You can also find Top Picks Of The Week by product category (chocolate, condiments, honeys and syrups, etc). If you're looking for gourmet food gifts in a particular product category, it's a faster way to find a food product review. These are only our Top Picks Of The Week. There are thousands of other food product reviews—wonderful products—in our different category sections. Visit the Main Nibbles directory to see them all.
| | |
| --- | --- |
| Gourmet Food Manufacturers A-L | Gourmet Food Manufacturers M-Z |
| | |




© Copyright 2005- 2022 Lifestyle Direct, Inc. All rights reserved. Images are the copyright of their respective owners.