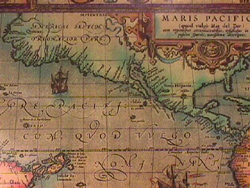 It's much easier to find your way around our website than it is to navigate the seas from Europe to the New World. This lovely map is actually wrapping paper, available to customers of Kaufman's.


Site Map
Welcome to TheNibble.com
This page contains an overview of the different sections of the website.
Home Page
The home page contains:
The Daily Nibble™, a foodie tip-of-the-day.
Links to timely content, including:
A click-through to:
Top Navigation Bar
These drop-down menus that run across the top navigation:
Specialty Areas. We have separate sections for diet products (sugar-free and gluten-free, e.g.), kosher products, and products that are organic, natural, or "good for you," which our readers named NutriNibbles.
Book reviews: books about food, wine, and entertaining.
Marketplace. A central shopping location for gourmet products and related services. We have not yet built the e-commerce Shop! area, where e-tailers will be able to present their wares to you. Similarly, our Special Offers section is just at the beginning of development.
Gifts & Entertaining. Of particular in this section are the editors' Gift Finder and Entertaining Guide editorial recommendations. If you want to know what we'd buy for a chocolate-lover or cheese aficionado, the gifts we'd select for Mother's Day, or what we'd serve at a Super Bowl party or at Thanksgiving dinner, you'll find the answers here.
Food Fun: This section has everything fun that's food-related: from contests and quizzes and home projects to great trips and industry events.
The Polls & Prizes area, which will debut soon, will offer you the opportunity to win great gourmet food prizes, books, and other merchandise.
Right now, you can look at food-related Events & Travel, both national and international. If you take a trip, let us know if it was especially terrific.
Home Zone. Because great food deserves great presentation, we have a selection of our favorite dishes, stemware, flatware, and serving pieces. We've also included noteworthy appliances and gadgets that make food prep and entertaining a snap; food-themed art to decorate your rooms; and food-themed apparel. And because foodies also should enjoy top-quality food-scented bath, body and household products, we review those too!
That concludes our articles and product review content. Now on to our bottom-of-the-page navigation.

Bottom Navigation

The bottom navigation is where you'll find the administrative information: About Us, Contact Us, Legal, and Privacy Policy. Our Subscriber Preference Center is currently under development.
For Readers
If you're a reader, we want to hear from you. You can send us Your Opinion at any time. You can read some of the comments and questions we're received at Letters to the Editor.
If you want to suggest a product or a tip of the day, visit Nominate A Nibble.
For Media
If you're a member of the media, or want to see our press kit or read our news releases, visit the Media Center.
For Advertisers, Manufacturers & Retailers
If you want to Advertise, visit our Media Center for information.
If you're in the specialty food trade, tabletop, and related areas that we cover, our Manufacturers and Retailers area has articles that can be helpful to your business.
If you want to link your website to TheNibble.com, visit Link To Us for instructions and logos.

How to Navigate Through TheNibble.com

In addition to the top navigation bar, within each article and product review there are two other ways to navigate:
Via the "bread crumbs" at the top of the page, which take you back to the next higher level category
Via the burgundy box (articles and reviews) or purple box (index, landing, or overview pages) in the left column. These navigation boxes provide different choices based on where you are in the category.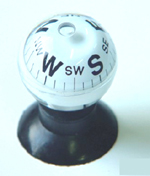 Compass is available at
CompassSuplier.com
We've tried to provide enough navigation options to make it easy for you to get from point A to point B, wherever you are.
If you you have questions or suggestions, please click here to send them to us.


Related Food Videos:



For more food videos, check out The Nibble's Food Video Collection.


© Copyright 2005- 2015 Lifestyle Direct, Inc. All rights reserved. Images are the copyright of their respective owners.