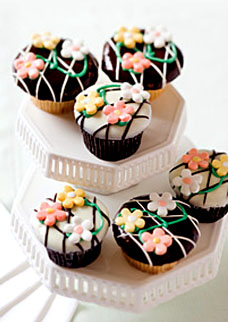 Celebrate spring with these elegant chocolate and vanilla cupcakes. Yes, they're pretty, but not too pretty to eat. At MackenzieLtd.com.











It's Spring, it's time for Easter gifts, and it's time to plan for Mother's Day, May 13 (see America's Best Artisan Chocolatiers: Part II). April is National Food Month. We don't know anyone who has trouble celebrating that! It's also National Florida Tomato Month, National Soft Pretzel Month and National Soy Foods Month. Check out our healthy foods in the NutriNibbles Section). For everyone celebrating Easter, see the treats in store in the Table of Contents below; for Passover celebrants we have some delicious recipes.

In addition to this monthly online magazine, we e-mail our Top Food Pick Of The Week newsletter to opt-in subscribers. If you don't already receive it, click here to have it delivered directly to your e-mailbox. Of the thousands of specialty foods we taste each year, these 52 weekly recommendations are our favorites for both home use and gift-giving. You won't want to miss them!
THE NIBBLE™ does not sell the foods we review
or receive fees from manufacturers for recommending them.
Our recommendations are based purely on our opinion, after tasting thousands of products each year, that they represent the best in their respective categories.

TABLE OF CONTENTS
THE NIBBLE Online Magazine

APRIL 2007
This Month's Nibbles

WEEKLY NIBBLES

Newsletter


Gourmet News

| | |
| --- | --- |
| | Click here to read the weekly Gourmet News—industry news and perspectives |

GOURMET FOOD PRODUCT REVIEWS

Product Reviews

Main Nibbles™

Diet, kosher & organic products are reviewed below. Main Nibbles products that also are diet, kosher and/or organic are re-listed in those sections.


Find more than 1000 articles and reviews in prior months' issues and newsletter archives (top picks of the week).

Diet Nibbles

Product Reviews

Kosher Nibbles

Product Reviews

NutriNibbles

Organic, Natural &
Wellness Foods
Reviews & Articles

ARTICLES & COLUMNS

Features/Recipes/
Reference Articles
We look forward to your comments and any suggestions you have about how we can make THE NIBBLE™ magazine and newsletter more valuable to you. Click here to send us a note.







© Copyright 2005-2021 Lifestyle Direct, Inc. All rights reserved. Images are the copyright of their respective owners.